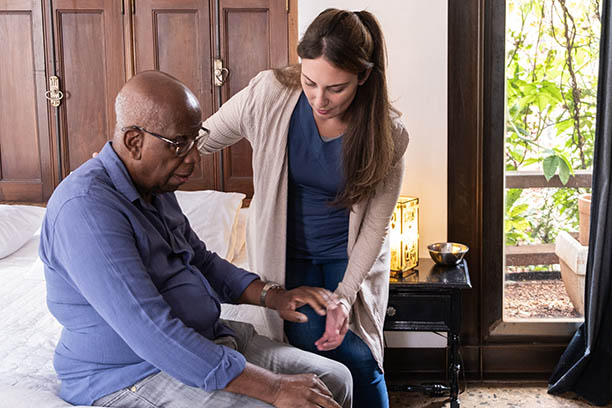 Palliative Care for Seniors in the Greater Cleveland, GA Area
Seeing your parent lose their health can be a taxing experience for the entire family. But whether your parents are sick or just merely aging, it is important to get the right help for them. As seniors require home care, it is important to enroll them in care for seniors.
Visiting Angels' Palliative Care for Seniors Focuses on the Physical, Emotional, Spiritual, and Social Needs of Aging Adults in Cleveland, GA, and Nearby Areas
But what is palliative care for seniors? Often interchanged with the term "hospice care," palliative care is all about providing respite from pain and discomfort. It also refers to activities done to improve the quality of life of an individual. While both palliative care and hospice care follow the same principles, the latter is given to end-of-life care while the former is given to people regardless of their life expectancy.
Here at Visiting Angels of Cleveland, we have trained caregivers who can provide essential care through our Certified Care Program. It is our goal to improve the quality of life by providing essential care to clients.
Our Aim, Our Focus
The focus of this program is to provide services that are holistic, comforting, and supportive. With care in mind, it is our mission to provide hope and a sense of healing to clients. Thus, below are the aspects that we focus on.
Physical care: Our caregivers are highly trained to recognize and respond to the physical needs of clients. By reading the signs, they know when clients need grooming, feeding, or mobility.
Emotional care: We provide emotional support, especially to clients who are suffering from stress, anxiety, depression, and loneliness.
Spiritual care: Our caregivers can help you achieve peace of mind so that you can find solace and comfort despite trying times.
Social care: We help build relationships through friendly companionship.
Contact Visiting Angels of Cleveland Today
If you are looking for caregivers that can provide care for your loved one in Cleveland or the surrounding areas, then don't hesitate to contact us by clicking one of the links below. We can connect you to care coordinators near you so that they can walk you through the program. Allow the peace of mind to settle in your family. The only way to achieve that is to enroll your elderly loved one in our one-on-one care for seniors.
Contact our team today to learn more about how we can assist you and your family.


Serving North Hall, East Lumpkin, White, Habersham, Stephens, and Rabun Counties
Visiting Angels
CLEVELAND, GA
24 W Jarrard St
Cleveland, GA 30528
Phone: 706-219-1415