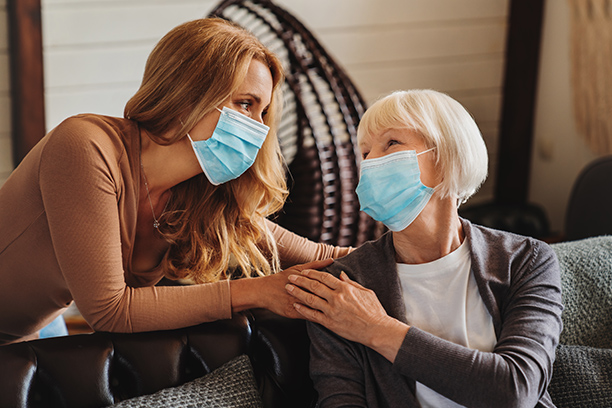 What to Expect from Our Senior Support Services in Greater Cleveland, GA
Visiting Angels Offers Senior Support Services to Help Seniors Stay Independent in Cleveland, Toccoa, Clarkesville, and Nearby Cities
When an aging loved one begins to need additional help to remain independent, it can be a very difficult and emotional time for you and your family. It may be the first time there is a loss of independent living, whether temporary or permanent. There is often role shifting between parents and children. There can be scheduling difficulties, financial strains, and more.
We have over a decade of senior support service to more than 1,300 families. We have faced many conditions, scheduling needs, and personalities over the years, and we have the expertise to answer your questions and help you through this challenging process.
Below are some questions and answers that may address your concerns about our senior support services. Click a question to read the answer.
Questions
How do I know I can trust this person? What will it be like to have someone in the house?
Do caregivers bring their own meals?
What do caregivers do when they are not attending to the client's needs?
Where do caregivers stay in the house?
What do caregivers expect from their clients?
What do I need to do so they can do their job?
What happens if the caregiver gets sick and can't come in?
Who is responsible for paying the caregiver's employment taxes?
Are the caregivers insured and bonded?
A: All of our caregivers are put through a detailed interview and screening process, including extensive background checks through state and federal agencies and databases as well as detailed reference checking. [Back to top]
A: We find that our clients quickly develop a close, trusting bond with our caregivers, who are trained to understand and respect clients' wishes and personal boundaries. Clients find the support and companionship to be warm and compassionate without being intrusive. [Back to top]
A: The caregiver is there to ensure personal safety, provide senior support services, prepare meals, take clients to appointments and social engagements, do light house- keeping, and most importantly, provide companionship. The caregiver's role varies for each client and is based on a personalized Care Plan.
[Back to top]
A: Visiting Angels of Cleveland is an essential senior support services organization as directed by state regulation. Our personal care assistants cannot administer medication but will assist with medication reminders. [Back to top]
A: No, our personal care assistants do not wear uniforms. They are always appropriately dressed in clean and neat clothing any time they are with clients. [Back to top]
A: In the case of our 24/7 live-in caregivers, the personal care assistant prepares meals for the client and themselves with food provided by the client and to the client's liking. [Back to top]
A: The caregiver is always be available to the client and remains in the home during the assigned hours. During down time they may take time to read or attend to light house- keeping needs in the home.
[Back to top]
A: Personal care assistants respect the desires of the client. They can be nearby to offer companionship or engage in conversations. Or they can provide the client with privacy while remaining available for the client's needs. [Back to top]
A: Our caregivers enjoy supporting and spending time with their clients. They do not have any expectations of their clients. [Back to top]
A: Nothing, our caregivers are well trained and experienced in what they do. [Back to top]
A: Our office staff is available to caregivers and clients 24/7. Should a personal care assistant become ill and not be able to make a scheduled visit, our staff will get a replacement to the client's home at the scheduled time and will keep the client informed of any change. [Back to top]
A: All of our caregivers report on a daily basis to the team's Client Service Coordinators. However, their ultimate reporting is to Susan Murray, the owner of Visiting Angels of Cleveland. [Back to top]
A: All of our caregivers are W-2 employees of Visiting Angels of Cleveland, and we manage and pay all taxes. This relieves our clients of these complicated IRS issues, which would be the client's responsibility should a personal care assistant be hired privately or through a registry. [Back to top]
A: Yes, all caregivers are fully insured and bonded through our office, providing our clients with peace of mind. [Back to top]
Do you have a question about elder care?
Call us at (706) 200-1773 today for a free in-home consultation with one of our experienced personal care assistants. We offer senior support services in Cleveland, Toccoa, Clarkesville, Clayton, and the surrounding area. Evening and weekend appointments available.
Serving Cleveland, Toccoa, Clarkesville, Clayton, Cornelia, Demorest, GA, and Surrounding Areas
Visiting Angels
CLEVELAND, GA
24 W Jarrard St
Cleveland, GA 30528
Phone: 706-200-1773