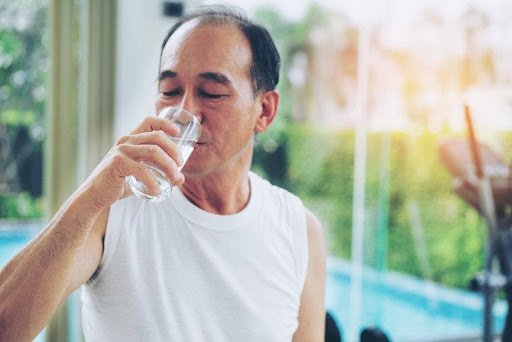 Resolve to Increase Your Hydration
Dehydration is dangerous at any age. However, seniors have an increased risk for dehydration than any other age group. There are multiple reasons why seniors are prone to chronic dehydration. The body's thirst response diminishes with age, making it difficult for seniors to identify that they need water. Many medications that are common amongst the senior population, such as diuretics or blood pressure medication, can contribute to dehydration. Other factors that lead to dehydration in the senior population include memory loss, acute illnesses, limited mobility, or the fear of having an accident when leaving the house.
Dehydration is a serious condition and can happen rather quickly. It can cause serious damage to the body and can lead to further complicated medical conditions. It's critical that seniors take initiative when it comes to their water intake. As we welcome the new year, perhaps it's time you resolve to increase your hydration. Here are a few ways to help seniors increase their water intake.
Start With Your Doctor
Before you begin to drink more water, start by having a conversation with your doctor. Some medications or chronic health conditions may limit how much water some seniors should consume. Research is mixed regarding how much fluid intake seniors should consume each day. There's also mixed information about sources of fluids. The Mayo Clinic suggests at least eight ounces of water a day is a reasonable goal. However, the Mayo Clinic also recognizes that every individual has unique hydration needs. Some seniors need more water than others, depending on their activity levels and overall health. Your doctor knows your health conditions the best and can recommend how much water you should aim to drink each day.
Add Water to Your Daily Routine
The easiest way to increase your hydration is to make it a part of your daily routine. Start the day by drinking a glass or two of water, before reaching for that cup of coffee. A cup of water first thing in the morning helps activate your internal organs. Drink one glass of water before eating each meal. This helps with digestion and can help prevent overeating. Drink a glass of water when you feel the urge to snack. Often, thirst is often confused with hunger. Try reaching for a glass of water before you open that snack.
Slowly Increase Hydration
Sometimes seniors are reluctant to drink a large glass of water because it seems too daunting. Eight ounces is a lot to consume in one setting for some seniors. Instead of giving, try increasing your water consumption in smaller quantities. Start with a four-ounce glass of water at the start of the day. Drink another four-ounce glass after breakfast. Continue in this pattern until you achieve your goal. If you prefer a water bottle to carry with you, consider purchasing a smaller sized one that holds eight-12 ounces, instead of the biggest size available.
Keep a Hydration Journal
Another approach to increasing your fluid intake is to keep a daily record. Make yourself a chart or simply jot down how many ounces you've consumed. Set realistic goals for yourself that you'll be able to achieve. Keep track of how much water you've consumed immediately after drinking it.
Choose Foods with High Water Content
Seniors who continue to struggle to meet their hydration goals should consider consuming foods with higher water content. Fruits such as strawberries, watermelon, and cantaloupe are delicious, hydrating fruits. Vegetables rich with water include celery, zucchini, lettuce, cucumbers, and spinach. In addition to eating more fruits and vegetables, seniors who find water bland may appreciate making their own infused water. Sliced fruits and vegetables, such as lemon and cucumber, places in a water pitcher filled with filtered water can make water taste more appealing.
Visiting Angels Cape Coral - North Fort Myers wishes all our clients and their families a Happy New Year! As you resolve to increase your hydration, perhaps you also resolve to get the help you need to maintain your independence and well-being. We provide compassionate care at home, helping you age in place. We can even help you meet your hydration goals by reminding you to drink water or assisting you to make a pitcher of infused water to keep cool in your fridge. With the help from our senior home care services provided by compassionate caregivers, you can make 2022 your best year yet. Please contact us today by calling 239-226-1620 to get started.