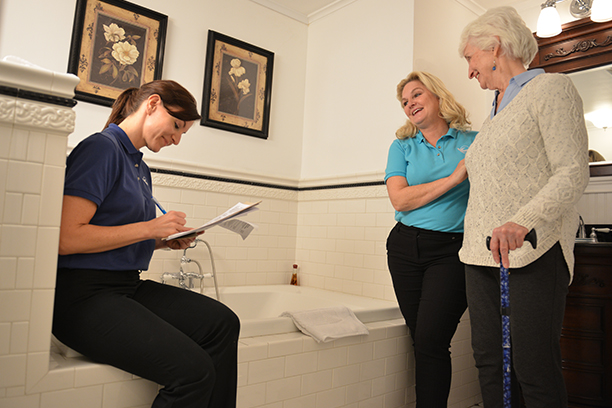 Making Aging in Place in North Hills Possible
When you realize that your loved one in North Hills needs help aging in place, your mind may begin spinning with questions. It can be tough to comprehend that your loved one is entering a new stage of life and can no longer live at home without outside support. At Visiting Angels® North Hills, we understand how challenging this time is for families, and we're here to help make aging in place in North Hills, Crafton, Glenshaw, Warrendale, West View, Wexford, or a nearby town a reality for seniors.
Why Aging in Place in North Hills is Important
Aging in place is the term used to express a desire many elderly adults have to remain in their own homes for as long as possible rather than moving to an unfamiliar nursing home or care facility. Due to mobility issues and cognitive decline, many seniors struggle to remain home without the external assistance of a care provider. Since the needs of older individuals often surpass the types of care that family caregivers can offer, our professional services can be invaluable for seniors who want to continue living at home.
How Our Aging in Place Services at Visiting Angels North Hills Help
Our at-home senior care programs provide seniors with the personalized support they need to complete day-to-day routines and basic activities in their own homes. We'll work with your family to design a plan for care that accommodates your loved one's needs as well as his or her personal preferences. Our care visits can be scheduled exactly when you need them, and this schedule and care plan can be adjusted over time, adapting to your loved one's changing circumstances.
Through the following programs, Visiting Angels North Hills is able to address a wide range of needs:
Dementia Care
Alzheimer's Care
Social Care
Transitional Care
Companion Care
Personal Care
Palliative Care
End of Life Care
Here are a few activities we can assist with:
Grocery shopping and cooking meals that are healthy
Light chores and basic housekeeping tasks
Companionship and participating in free time activities
Personal care, including dressing, toileting, and bathing
Walking assistance and mobility support
Medication and appointment reminders
Help make aging in place possible for your loved one. Contact Visiting Angels North Hills today to get started with a free care consultation in North Hills, Crafton, Glenshaw, Warrendale, West View, Wexford, or a neighboring community.
Serving the North Hills of Pittsburgh and the Surrounding Area
Visiting Angels NORTH HILLS, PA
8035 McKnight Rd #304, Andre Plaza
Pittsburgh, PA 15237
Phone: 412-366-4860
412-638-8660