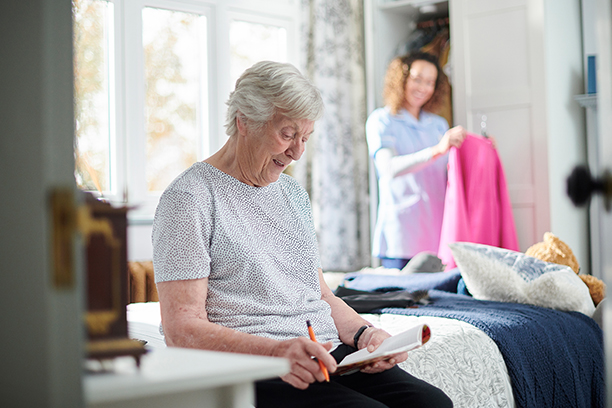 Companion Care
Companion Care can Make a Difference in Your Loved One's Life
Whether your loved one lives alone or spends a large amount of their day alone while family members work, it's easy to become isolated or withdrawn as we age. Depression is a common concern for the aging population. Physical limitations as well as the inability to drive or medical concerns can lead to extended periods of time in isolation. Companion care from Visiting Angels Jacksonville can help alleviate feelings of loneliness.
When your aging parent or loved one has companion care from Visiting Angels Jacksonville they will have a compassionate provider who understands the challenges of aging. Our caregivers will not only lend a hand with activities of daily living, but address your family member's emotional needs as well. Angel companions are happy to spend time with their clients engaged in card games, working on puzzles, going for walks, or simply sharing meaningful conversation. As your loved one spends time with their caregiver a connection will grow between them.
At Visiting Angels Jacksonville, we have found our clients greatly enjoy the companion care they receive and look forward to visits from their caregivers. Likewise, our elder care professionals genuinely enjoy spending time with seniors and are dedicated to making life more meaningful for the clients they serve. Families often feel their loved one's Angel companion is like a member of the family. Instead of feeling badly that you can't be with your loved one at all times, you can delight in the fact that they now have an extra set of eyes looking out for them.
Quality Companion Care Providers
The companion care providers from Visiting Angels Jacksonville are upstanding individuals. Each has been thoroughly interviewed, reviewed, screened and verified. We make sure they have the knowledge and characteristics we prefer, such as a commitment to treating each client with dignity and respect. Additionally, you get to choose the elder care professional you like best. It's easy for your loved one to bond with their caregiver when we insist on hiring kind and easygoing professionals.
Schedules can vary greatly from person to person and family to family. That's why Visiting Angels Jacksonville offers companion care with flexible scheduling options. There's no need to juggle your schedule or inconvenience your loved one or other family members in order to incorporate care. Angel companions are available around the clock, day or night. Even on weekends and holidays, we have caregivers ready and willing to help. After all, what good is care if you can't get it when you need it?
Companion care from Visiting Angels Jacksonville will not only make a difference in the life of your aging loved one, but have far reaching effects that extend to family members as well. To gain peace of mind and receive high quality care for your loved one, contact Visiting Angels today. Our companion care services are available to families in Jacksonville, Amelia Island, and the surrounding communities.
Serving Jacksonville, Amelia Island, Duval, Clay, and Nassau Counties
Visiting Angels
JACKSONVILLE & AMELIA ISLAND, FL
4250 Lakeside Dr
Jacksonville, FL 32210
Phone: 904-302-7560
Fax: 904-352-2357
HCA232729 & HHA299994100