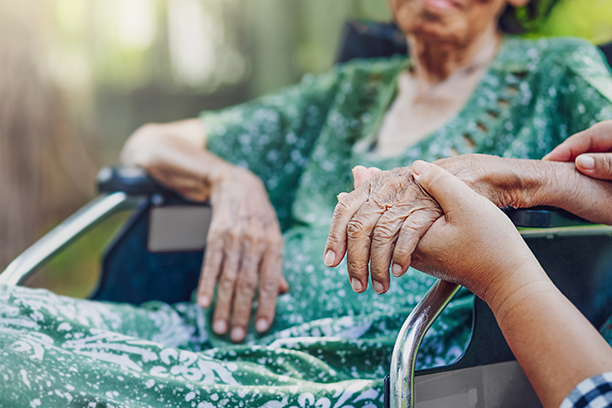 Find Peace of Mind with Constant Companion from Visiting Angels
A virtual assistant can give your senior loved one assistance while ensuring their well-being and your peace of mind!
It is common for our parents and other loved ones to need some assistance in their homes as they age. As much as we want to be there for our loved ones, often times work, family, kids, and other obligations keep us from being there all the time. Seniors may not admit to needing care or resist the idea of bringing a caregiver into their home.
If your concerned about your loved one's health and safety, but are not quite ready to bring a Visiting Angels caregiver into the home, Constant Companion can help!
What is Constant Companion?
Constant Companion is a new caregiving technology that allows seniors the independence they crave while giving family members the reassurance they need. Constant Companion is a virtual voice assistant that uses Amazon Alexa for caregiving, calls for help, and daily check-ins.
1. Virtual Assistant for Caregiving
Using a voice-command Amazon Alexa, your senior loved one can reduce isolation and increase fun at home. Simple commands like "Play music!", when synced with your loved one's home devices, can make everyday tasks easy. Your senior loved one can make and receive phone calls easily, without trying to find their phone or click small, hard to see screens.
2. Companion Call for Help
Companion - Call for Help is a voice-activated medical alert that works from anywhere in your loved one's home. It instantly connects to our Urgent Response Center 24/7 with just the sound of a voice.
Your loved one doesn't have to wear a device or carry their phone around - all they have to say is, "Alexa, Call for Help" to be connected by two-way voice to a highly trained agent.
Constant Companion is 3 times faster and 83% more reliable than medical pendants or panic buttons. There is no recharging or pesky device to wear, so your loved one can call for help from anywhere in their home.
3. Live Daily Check-In Calls
Using the Constant Companion, Visiting Angels caregivers can schedule a check-in call with your loved one each day at a convenient time. This may be just a friendly house call, checking to see how they are feeling and what they have planned for the day. We can provide medication reminders, remind seniors to eat or make meals, and provide assistance as needed.
After our check-in call is complete, we will update you about your loved one's condition. We can let you know if there are any issues and what steps need to be taken to ensure your loved one's well-being.
Contact Visiting Angels North Jacksonville to Get Started!
If Constant Companion sounds like a service that can benefit your senior loved one - and your peace of mind! - contact Visiting Angels North Jacksonville today. We'll be able to set-up the virtual assistant, schedule daily calls, and make sure your family is getting the support the assistance you need.
Simply call our office at today at 904-302-7560 - we're happy to help.
Serving Jacksonville, Amelia Island, Duval, Clay, and Nassau Counties
Visiting Angels
JACKSONVILLE & AMELIA ISLAND, FL
4250 Lakeside Dr
Jacksonville, FL 32210
Phone: 904-302-7560
Fax: 904-352-2357
HCA232729 & HHA299994100