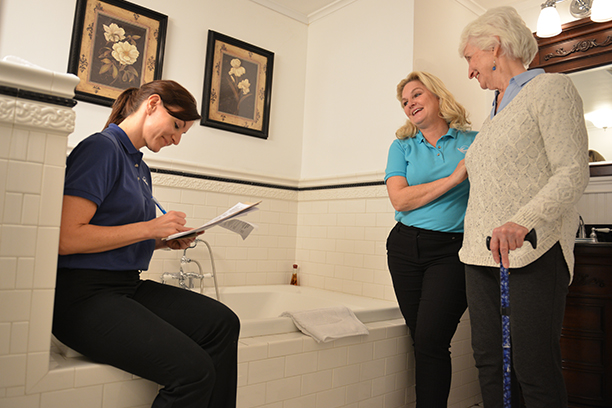 Finding an In Home Care Provider
If you have an aging parent or loved one in the Jackson area who is in need of in home care, there are many options to choose from. People often ask themselves, "How do I know I'm picking the right caregiver?" There are some basic guidelines you should look into prior to selecting in home care from an agency such as Visiting Angels Jacksonville.
First, read up about the agency on their website or via printed materials. Call the agency. Is it easy to get ahold of someone? Is the person who takes your call knowledgeable about the agency's services and senior care in general? Do the people you speak with demonstrate compassion and empathy for the difficult process you are going through? Visiting Angels Jacksonville is a non-medical in home care provider that can confidently answer "Yes!" to all of these questions.
Additionally, when you are looking for in home care in Jacksonville you want to find an agency that puts the safety of your loved one first. Agencies such as Visiting Angels will send a professional to your home to provide a complimentary safety check and fall prevention assessment. You also want to be certain the caregiver you select has been through a thorough background check and has verified references. Our caregivers must not only pass our rigorous interview process, but live up to our high standards when it comes to providing care with dignity and respect.
Another extremely important aspect of finding in home care for your loved one is to get an overview of the types of services they offer and see if they align with what you are looking for. Does the agency offer customized plans that are able to accommodate the unique needs of your family member? Do they have flexible scheduling options including overnight and weekend care? Will they take the time to get to know your loved one and understand their needs before having you choose services? Again, Visiting Angels Jacksonville can answer "Yes" to all of these in home care questions.
Finally, when selecting an in home care provider in Jacksonville, you want to make sure your loved one has a connection with their caregiver. At Visiting Angels Jacksonville, we allow you to choose your caregiver. By matching your needs with the skills of several qualified caregivers and letting you talk with them in person, you have a better chance of finding a provider who will become a trusted companion for your loved one.
There are many things to consider when selecting someone for in home care services. By calling Visiting Angels Jacksonville you will have a friendly and knowledgeable staff member to help you navigate through the process. Our senior care agency helps families in Amelia Island, Fernandina, Fleming Island, Orange Park, and throughout the Jacksonville area. We have offices on Amelia Island and in Jacksonville for your convenience.
Serving Jacksonville, Amelia Island, Duval, Clay, and Nassau Counties
Visiting Angels
JACKSONVILLE & AMELIA ISLAND, FL
4250 Lakeside Dr
Jacksonville, FL 32210
Phone: 904-302-7560
Fax: 904-352-2357
HCA232729 & HHA299994100