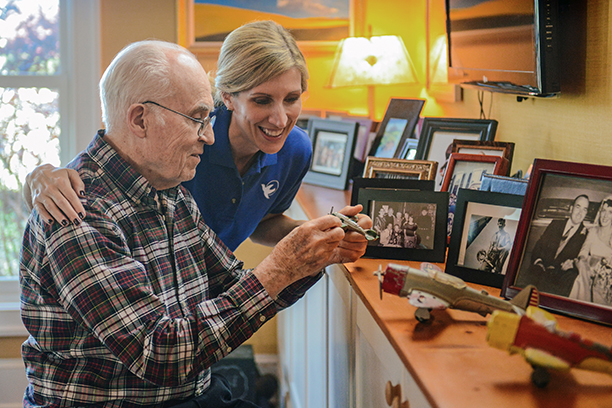 Is Respite Care Right for You?
Acting as the main caregiver for a loved one struggling with age related difficulties or health concerns can often feel like a full-time job. But, unlike a job, caring for a loved one doesn't have limited hours like 9 to 5, and there are no scheduled days off. Worrying about the welfare of your loved one isn't something you can just turn off, even when you're off the clock. In order for you to truly rest, you need to know they're safe and in good hands. That's where respite care from Visiting Angels Jacksonville can really help. We provide reliable respite care services that countless families in the Fernandina area have come to rely on.
How Respite Care Can Help
As a primary care provider for an elderly loved one, you are there for them day after day, making sure they have exactly what they need. But who is looking after your needs? If you become sick, who will look after your loved one?
Rather than risk your health, it may be time to consider getting professional respite care. With respite care from Visiting Angels Jacksonville, you can get the rest you need to stay your strongest, so that you can continue to provide the best care for your loved one. Whether you need relief to come early in the morning or late at night, we'll be there when you need us.
We Keep the Care in Respite Care
You wouldn't leave a treasured loved one in the care of just anybody. You want an individual you know and can trust. Someone who can assist with not only their physical needs, but who is also sensitive to their emotional and spiritual needs. Visiting Angels Jacksonville absolutely understands this. That's why we select only the finest individuals to be companion caregivers and assist families in the Fernandina area. Our gentle and compassionate approach makes all the difference to the families we serve.
Local Respite Care for Fernandina
There is nothing more comforting than having respite care close at hand. Visiting Angels Jacksonville is part of your community and the surrounding communities of Fernandina, Fleming Island, Orange Park and Amelia Island. When you call us, we'll come right to your door to talk with you about your loved one's needs and build a respite care plan that takes care of you both.
To get the help you need from caregivers you can trust in Fernandina, call Visiting Angels Jacksonville today for your free respite care consultation.
Serving Jacksonville, Amelia Island, Duval, Clay, and Nassau Counties
Visiting Angels
JACKSONVILLE & AMELIA ISLAND, FL
4250 Lakeside Dr
Jacksonville, FL 32210
Phone: 904-302-7560
Fax: 904-352-2357
HCA232729 & HHA299994100