Dementia Care in Chicago: How To Help When They Say They Want To Go Home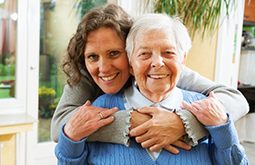 If you take care of a relative who suffers from dementia, it is likely you've heard them declare "I want to go home." They often say this when they are already at home, so it usually means something else. A loss of verbal communication skills is just one of the side-effects of this disorder. With our professional dementia care, Visiting Angels® Chicago can help you create the right support plan for your loved one.
When they say they want to go home, they are likely trying to communicate some undiagnosed pain, a feeling of confusion, or many other things. Reduced ability to process information is another side-effect of dementia, so it doesn't help to try and rationalize with them in these moments.
You need to listen to them and provide a relaxed and soothing presence. Slowly try and redirect their attention, while continuing to validate their needs. These moments are often full of fear and anxiety, so by staying calm you can help them tremendously. This is a great time to give them a hug and let them know that you are there for them.
By paying attention to their needs, resisting the urge to argue with them, and simply being a kind, loving, and calm presence, you can make their life easier as they cope with these types of moments.
Our Professional Dementia Care in Chicago
We offer in-home professional dementia care to make sure your loved one gets great support. Our service will also afford you the opportunity to take a stress-reducing break whenever you need. All of our caregivers are kind and loving senior care professionals who have gone through our tedious screening process. We take pride in delivering the kind of attentive and loving support you'd provide yourself. The benefits include:
A safer home environment
A source of kind companionship
A respite for family caregivers
The chance to avoid an assisted care facility
And much more!
Dementia Care To Help The Whole Family
When your loved one is diagnosed with dementia, the most important thing to do is to set up a plan for their support. Securing our service is the perfect solution to help you manage their needs and provide them with a sustainable home life. Living at home allows them to maintain comfort and familiarity as they cope with this memory-based disorder.
We provide our support for families throughout:
Chicago
Niles
Morton Grove
Lincolnwood
Golf
And nearby areas
To learn more about our dementia care, contact Visiting Angels Chicago today and book a care consultation to get started.