Prevent Wandering with Dementia Care Services in Chicago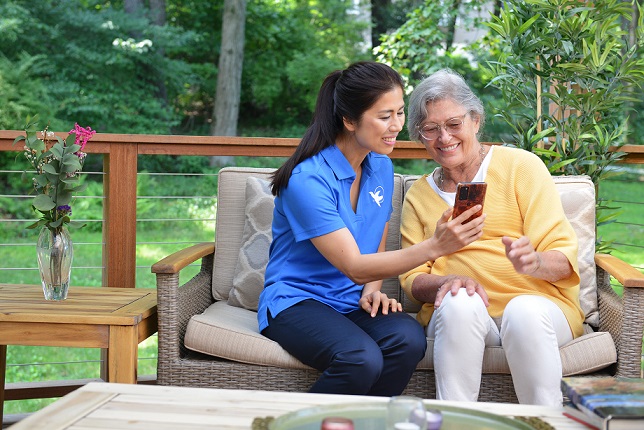 With our dementia care services, Visiting Angels® Chicago provides a wide range of support for dementia-suffering seniors and their families. We offer in-home assistance from kindhearted caregivers who can help your loved one remain at home. Securing our customized service is a great way to improve your loved one's quality of life while easing the burden placed on your own shoulders.
When an elderly loved one is diagnosed with dementia, it is important to have a plan. You need to provide them with added support and be aware of the dangers their disorder may present. One of these dangers is wandering. When seniors lose the ability to recognize familiar places, they often end up in a confused state, wandering around with no destination in mind. This can be quite dangerous and stressful, so it's important to be aware of the warning signs.
Warning Signs of Wandering
Be on the lookout for the following issues:
Confusion
Seniors may become confused when they're in a new environment. You may also notice that it takes them longer than usual to return home from a walk. In some cases, seniors struggle to identify areas of their own homes such as the bathroom or bedroom.


Lost in Time
They may talk about deceased relatives as if they are still alive. They may also talk about previous life situations such as a former job, as if it is ongoing.


Anxiety
Seniors who are prone to wandering often get confused and scared when in crowded public areas. You may also notice repetitive movements and restless body language.
Kind and Loving Dementia Care Services for Chicago Area Families
If you secure professional in-home support and remain vigilant about the warning signs, you can help to protect your loved one from wandering and the other terrible effects of their disorder. With our trusted dementia care services, Visiting Angels Chicago is committed to helping out in any way that we can. We offer part-time or full-time home care options.
For every family, we provide a free initial care consultation where you can inform us about your specific needs and help us create the right care plan for your loved one. Our kind, compassionate, and watchful service is available for seniors throughout:
Chicago
Lincolnwood
Golf
and the surrounding areas
To discover more of the benefits of our dementia care, contact Visiting Angels Chicago and set up your care consultation today.