Dementia Care Services in West Bloomfield: Tips for Making Every Day Easier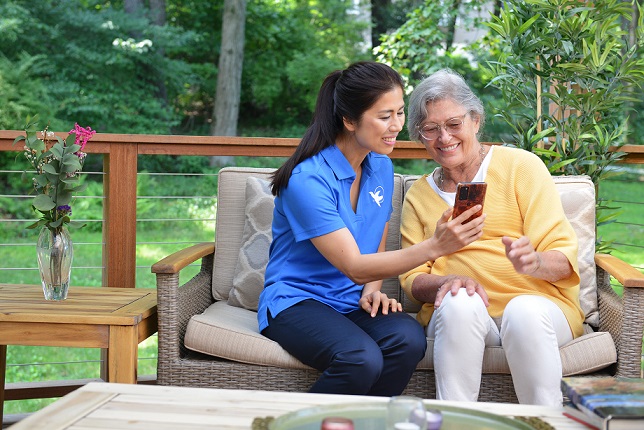 Living with the effects of dementia is never easy, but with the right amount of love and support, you can build a better life for your loved one. With dementia care services for seniors in the West Bloomfield area, Visiting Angels® Novi provides the kind, flexible, and attentive assistance many seniors need. Our goal is to keep your loved one out of a care facility and in their own home while also making life easier for caregiving relatives.
With our detailed support, your parent or relative will have a friendly and helpful person around to prevent household accidents, help with memory issues, assist with self-care, run errands, handle daily chores, and much more. To contribute to building a safer, easier, and happier home life for your loved one with dementia, follow the tips we've outlined below.
How to Support Your Loved One with Dementia
Along with our helpful in-home support, here are a few actions you can take to set up a better home life for your loved one:
Routine. A consistent daily schedule will provide them with a sense of familiarity and comfort to combat the confusion they are likely to experience.
Memory assistance. There is a strong chance they will end up relying on you and their care provider for medication reminders and other important forms of memory assistance.
Healthy lifestyle. Encourage a healthy lifestyle by joining them for walks and other activities.
Independence. Remember how stressful it can be for an adult to require home care from another person. Help them maintain their independence as much as possible and always be mindful of their discomfort.
Compassion. Most importantly, always make them feel loved, supported, and understood.
Take Advantage of Our Dementia Care Services in West Bloomfield
When people try to handle the full weight of a loved one's care duties, it usually doesn't end well. That's because there are only so many hours in a day, and you have your own life to live. There is nothing wrong with seeking help in this difficult situation. Our caregivers are ready to help you build a happier, healthier, and more comfortable lifestyle for your loved one. We proudly support families throughout:
West Bloomfield
Novi
Commerce Charter Township
Bloomfield Hills
Northville
Walled Lake
Wixom
And the surrounding areas
To begin our dementia care for your loved one in West Bloomfield, call Visiting Angels Novi and ask about your free initial care consultation today.