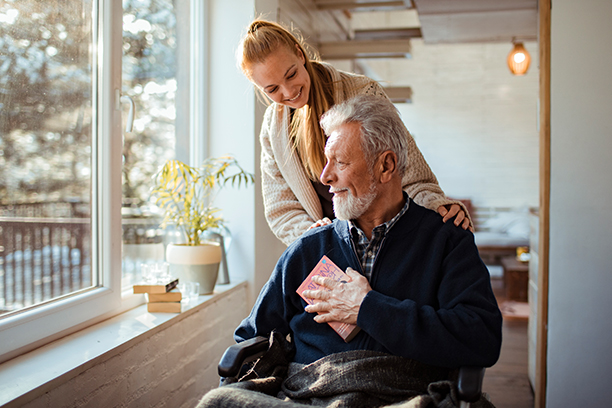 About Visiting Angels
Richard Glass - Owner
Rick Glass oversees Visiting Angels of Pasco, Pinellas, and Tampa; Rick recognized the need for a service in the Tampa Bay area that would allow the elderly to stay in their own homes while receiving care. He began looking into different sources with his parents and after finding a void, Rick decided to fill it by opening a Visiting Angels to serve the greater Tampa Bay area. Rick says, "This is good, important work. Providing people a way to receive care while staying in their lifetime homes is rewarding and there is a big need for the services Visiting Angels provides."
---
Rosie Shmyel - Finance Controller
A native of Minnesota & graduate of the University of Minnesota, Carlson School of Management in Corporate Finance, Rosie Shmyel moved to the Tampa Bay area in 2017. As the Visiting Angels Financial Controller for the Tampa, Pasco & North Pinellas Markets, Rosie brings many years of experience as a Senior Accountant, Accounts Payable Manager & Accounting Supervisor. Rosie has an extensive background & successful performance as a leader in training, supervising & motivating accounting staff teams over the years.
Rosie chose Visiting Angels because she wanted to be part of a growing, fast-paced company that makes a difference for Clients & local Communities. Rosie likes to be part of a Team, a Family - always looking for ways to better the Client Experiences & Processes.
Rosie's dog, Tiger is her 'love' ! Outside of working, Rosie enjoys spending time with her family, cooking & taking one day & weekend trips exploring more of what Florida has to offer.
---
Melanie Price - Director
After spending 28 years in the financial services industry with Bank of America, Melanie retired for several years to enjoy time at home with her teenage daughter, Maddie. In February 2016, Melanie joined Visiting Angels to support the growth of the company, focusing on sales, service, and operations. Melanie is passionate about taking care of clients and their families through ensuring the staff has the right tools, processes, training and compassion to grow the business one customer at a time. Melanie will continue to develop lead sources through a strong & dedicated Sales Team in the Pasco, Pinellas and Hillsborough areas while staying involved in the communities in which we live and work.
---
Christina Burns - Director of Operations
Christina Burns joined Visiting Angels in March of 2016 as a Client Coordinator for the Pasco and Pinellas areas. Prior to working with Visiting Angels, Christina worked as the Staffing Coordinator for a hospital in Ohio, coordinating schedules for staff, nurses, doctors and patients. With her prior experience, Christina was able to grow the Visiting Angels Pasco & North Pinellas Market by 200%, and was promoted to Director of Operations in May 2017. Christina leads the 2 Visiting Angels Offices in daily operations, service & compliance. While not working, Christina enjoys kayaking, boating and being outdoors.
---
Angela LoCasio - Office Manager
Angela LoCascio joined Visiting Angels as Support Staff for our Tarpon Springs & Tampa Offices in November 2015. Angela brings work experience and knowledge in the fields of Medical Billing and Retail Sales. Her role is critical to the success of Visiting Angels as she serves many clients and family members by phone every day. She also works closely with the rest of the Visiting Angels team. Angela and her family live in Tarpon Springs; she has 2 children, ages 8 and 12. Angela's family is from Brazil, and she speaks fluent Portuguese. While not working, Angela enjoys reading and spending time with family.
---
Josh Stanaland -Client Director for Hillsborough Market
Josh brings strong rehabilitation therapy experience to Visiting Angels, Clients & Families. Josh's focus is about relationship building, partnering with business referral sources to refer caregivers for mutual patients & clients. High energy and always on the go, Josh is loyal to those he works with, using his past successes in sales & service with strong business development to make a difference.

Josh stays busy on the weekend with Family & Friends, taking trips every so often back to his home town of Jacksonville, Florida - Loves dogs and stays active in community organizations like the Leukemia Lymphoma Society, Alzheimer's Association & ALS, raising awareness and dollars for key events throughout the year.
---
Jane Verlander - Client Coordinator for Hillsborough Market
Jane brings 20+ years of administration, management and coordination of living centers, working closely with client schedules, social services and home care for residents & families. Jane brings a calming voice to anyone she interacts with on the phone and in person, knows how to manage multiple tasks well & is focused on the client & family with every interaction.

Additionally, Jane's experience includes training caregivers, facilitating Alzheimer's Support Group Meetings and completing care plans for the clients & families in need of home care services.

After growing up in Caerphilly, South Wales & spending the last 20 years working in her country, Jane relocated to Florida in 2017 to be closer to her parents. Jane stays busy with her 2 great danes - Dennis & Kevin, and likes to explore Florida weekends mini-trips. Jane has 2 grown children who continue to live in England and visit regularly.
---
Lana Vandoren -Client Director for Pasco & North Pinellas Markets
Lana Vandoren is the Visiting Angels Client Director for the Pasco and North Pinellas Markets. Lana has worked in the home health care industry for the past 15 years. Her success in working with multiple Senior Living Facilities, Hospitals and Doctors as an Occupational Therapist comes from building relationships and delivering the best level of care to residents and patients, 1 at a time. Lana has been very active in this field these past many years, participating in discharge planning, case plan meetings and delivering educational in-service training.

Lana is responsible for generating home care lead referrals from Key Sources in the communities through personalized visits, training support. Lana's territory spans from Tarpon Springs, FL, east to Wesley Chapel, Dade City, west to Hudson and south to Holiday, FL. With her background and network, Lana brings a strong commitment to building relationships in the field, sharing our story of what makes Visiting Angels different.

A graduate of the University of South Florida, Lana and her family live in New Port Richey, FL. Weekends are busy with kids' sports, travel soccer, enjoying the weekends together.
---
Stefanie Uzzle -Client Coordinator for Pasco & North Pinellas Markets
Stefanie Uzzle joined our local Visiting Angels Home Care Team in September 2020 as the Client Coordinator for the Pasco & North Pinellas Markets. Her primary responsibilities are to grow the markets week over week through strong display of compassion, care for clients and their families in partnership with the Market Client Director & Director of Operations. Building relationships with each Family & Client is key to daily success to the markets served by Visiting Angels. Stefanie works closely on a daily basis with existing and new clients, referring quality caregivers that meet home care, facility & hospital needs.

Stefanie brings strong client commitment to the Client Coordinator Role with her background in Hospitality Management the last 10 years. Stefanie's talents were recognized these past 10 years by multiple promotions due to her leadership and building a loyal Team to serve their guests to ensure memorable, unique & personable experiences. Her communication & organizational skills with a sense of urgency to all Client & Family are guaranteed by Stefanie every day.

Residing in Pasco County, FL, Stefanie & her husband, Brian moved to Florida in 2013. Stefanie's family grew up in the Midwest - Southern Illinois & Kentucky. On the weekends, the family stays very involved with their 17 year old daughter's activities with softball tournaments on the weekends, enjoying time outside, fishing, playing board games & baking. And keeping up with 3 cats & 3 sugar gliders !
---
Angela Gilliam -Caregiver Registration Coordinator for Pasco, North Pinellas & Tampa Bay/Hillsborough Markets
Angela Gilliam joined Visiting Angels in September 2020 as the Caregiver Registration Coordinator, bringing 20+ years of experience in the Home Care Services field, working locally in the Pasco & Tampa Bay area. Because of our continued growth, we added this new position as Caregiver Registration Coordinator to manage the Daily Caregiver Nurse Registry Process from advertising to credentials - Always accepting caring, compassionate & responsible caregivers with experience who are Certified Nursing Assistants and/or Home Health Aides to accept Clients & Families in their homes, facilities & hospitals.

Angela collaborates with the Client Coordinators to identify Caregiver Referrals based on Client/Family care plans that include Assisted Daily Living Needs in their Homes, Facilities and/or Hospitals with Dementia, Alzheimer's, Parkinson's, Cancer Treatments, Hospice Care, Respite Care for the Family, Personal Care, Transportation & Errands, Companion, Meal Preparation, Rehabilitation with Functional needs in Ambulation/Transfers, Meal Preparation, Light Housekeeping, 24/7 Home Care Living Care Needs, Geography & Languages Spoken.

Because of Angela's own experience in taking care of her grandfather and other family members with daily home care services, she recognizes that Caregivers have many choices to select home care agencies. Timeliness of Caregiver Registration is key to success in this business which Angela brings a strong commitment to add quality caregivers to the Nurse Registry to ensure every Family has the best experience in Home Care Services.

In addition, Angela actively works with local health-care related schools, local community businesses, faith-based establishments & caregiver companies for Caregiver Referrals.

Growing up in Kansas, Angela calls 'Florida' her home these last 20 years, living in Pasco County with her family. When not working, Angela enjoys her time with family & friends, being outdoors and reading.
---
Crystal Wolfe -Accounting Coordinator
Crystal Wolfe joined Visiting Angels in May 2020 as the Accounting Coordinator. Crystal brings 15+ years in Hotel Management, focused on bringing different teams together to deliver the best level of family guest experience with every visit. As the Accounting Coordinator for Visiting Angels, Crystal stays busy with ensuring accuracy of daily invoices for clients/families and caregivers as a Nurse Registry, in addition to supporting daily financial projects & goals to grow quality business for Visiting Angels.

While this is an industry change for Crystal, she brings an amazing commitment to deliver on Teamwork, highest level of Customer Service and years of management experience to Visiting Angels.

Recently relocating to Tarpon Springs, FL from the Florida Keys, Crystal enjoys spending time with her family, reading, volunteering, supporting local businesses, and crafts.
---
Serving New Port Richey, Port Richey, Hudson, Bayonet Point, Land O'Lakes & the Communities of Pasco County, FL
Visiting Angels New Port Richey
6328 US Highway 19 #C
New Port Richey, FL 34652
Phone: 727-233-8346