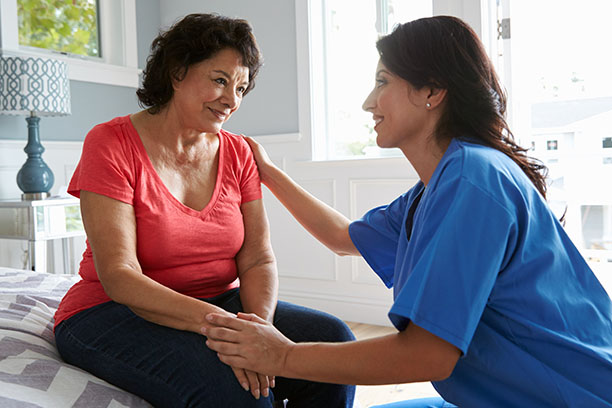 Dementia Care in Defiance, OH
When a senior loved one is struck with dementia, it lays an incredible amount of obstacles in their path. To overcome these obstacles can come at great cost, taking more than even the most dedicated family caregivers have to give on their own. Without an immense amount of time and support, the caregiver can be stretched too thin. Professional dementia care from a trusted, local Defiance, OH home care agency can help you both get the help you need. With care services from Visiting Angels® Northwest Ohio, your loved one can receive skilled support from the comfort and familiarity of their own home.
Defiance, OH's Choice for Dementia Care
To continue living at home, a senior with dementia or Alzheimer's needs to have support systems in place which can prevent common dangers like wandering or missed medications. They also need emotional support to help them manage the anxiety and outbursts that can often accompany dementia. To do all that, you need a dementia care provider in Defiance, OH with not only skill, but with true sensitivity as well. Visiting Angels Northwest Ohio does just that.
Some of the characteristics that define our dementia care in Defiance, OH are:
Compassion - when assisting your loved one with sensitive, personal tasks like washing and toileting, we always put their dignity first
Training - our caregivers in Defiance, OH are offered advanced-level training in dementia care in order to hone their skills and become true experts in their field
Support - our clients can always reach us by telephone, anytime of the day or night, 365 days a year
Versatility - we make sure to stay flexible in terms of timing and budget so that we can provide care and support whenever you need it
Character - as a trusted, local home care agency, Visiting Angels Northwest Ohio is truly committed to improving the lives of seniors in our community of Defiance, OH through exceptional dementia care
Free Consultations in Defiance, OH
A diagnosis of Alzheimer's or dementia can leave your head spinning. Our care directors can help you take a step back and make sense of things. At Visiting Angels Northwest Ohio, we provide complimentary dementia care consultations to families in Defiance, OH and Napoleon which let you get the full picture of the options available to them. It's also a perfect time for us to get to know you, too, so we can personalize your care services down the road.
For more information on the dementia care services available to you in Defiance, OH, call Visiting Angels Northwest Ohio today.
Serving Northwest Ohio in Fulton, Defiance, Henry and Williams Counties
Visiting Angels
NORTHWEST OH
143 N Michigan Ave
Edgerton, OH 43517
Phone: 419-298-0034