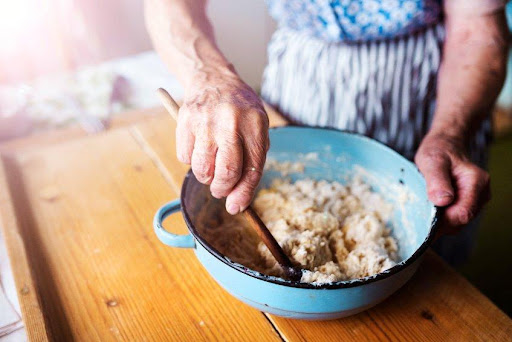 Why Baking Is Good for You
Few things in the world beat the smell of something baking fresh in the oven. Whether it's a cake, bread, pie or any other delectable dish being prepared, baking offers a number of benefits — and not just for the people who get to eat the wonderful food being served. From sharpening your memory to keeping you moving, here are a few reasons why baking, or learning to bake, can be good for you.
It Can Help Your Mind
Baking is a skill, but it's one that's easy to pick up and fun to learn as you go. For experienced bakers, there's always a new trick to try or technique to perfect, and for those just starting out, learning is all a part of the fun. One of the main reasons why is because unlike cooking, baking doesn't require the same kind of guesswork. It's more science than artform. While cooking a meal, you might have to adjust different measurements and seasonings to get the taste just right, but baking is typically more straightforward and requires following a recipe exactly, which means it's easy to practice and get better over time. As you get more experience, you'll also start to remember different measurements and amounts, such as three teaspoons equals one tablespoon, and the steps you need to take for each recipe. You'll also start to learn more about different ingredients and how they interact with one another in the food you're preparing, helping to keep your mind engaged and sharp.
You Can Make Healthier Foods
If you love baked goods but not the high fat and sugar content that's often in them, you're not alone. Store-bought cakes, cookies, pies and even breads can contain ingredients that aren't healthy or that are too high in certain amounts. When you're the one in charge of making the food, however, you can substitute certain ingredients that alter a dish to make it better for you. For instance, you can substitute half the oil with applesauce in some recipes. Applesauce has virtually no fat in it and provides valuable nutrients oil doesn't have. Another option is to switch out the sugar for another sweetener to reduce calories and minimize problems for those who need to limit their sugar intake.
It Gets You Moving
Turning a set of ingredients into a single food doesn't happen on its own. You need to mix, knead, stir and lift to get everything into its proper place in the correct order. While there are plenty of kitchen gadgets available to lend a helping hand, such as hand mixers and food processors, there's still an element of movement and activity you need to put in. It's a great way to make sure you're up and active for part of the day, and food always tastes that much better when you've put in the work beforehand.
It's Fun
No matter how young or old you are, making something is always satisfying. There's something special about seeing how you put all the different parts together and followed the instructions to get to the final product. There's a sense of excitement when you place something into the oven and have to wait to see its final form, and it's fascinating to watch a sticky, sloppy dough somehow turn into a tasty treat, almost as if by magic. That sense of wonder never goes away either. Whether it's your first time baking or you've done it thousands of times, seeing the end result is always a joy — and so is tasting it!
The More the Merrier
There's a saying about too many cooks in the kitchen, but that rarely holds true with baking. In fact, baking is a terrific activity to do with friends, and it's the perfect opportunity for caregivers and clients to share together. Splitting the baking duties is also a great way to learn more complicated recipes and work through some of the more technical baking techniques as you grow into the hobby.
Conclusion
In the end, the best part about baking is probably getting to eat what you made at the end, but don't discount the other benefits of getting to that stage. Baking can be a fun hobby that's easy to get into and a joy to share with others. If you're looking to get started or to continue on your journey in the kitchen, talk with our team at Visiting Angels Toms River. We offer a wide range of home care services including Companion Care, which can assist your loved one with cooking (and baking!), light housekeeping, errands and more. Get in touch with us to learn more by calling 732-538-8301.