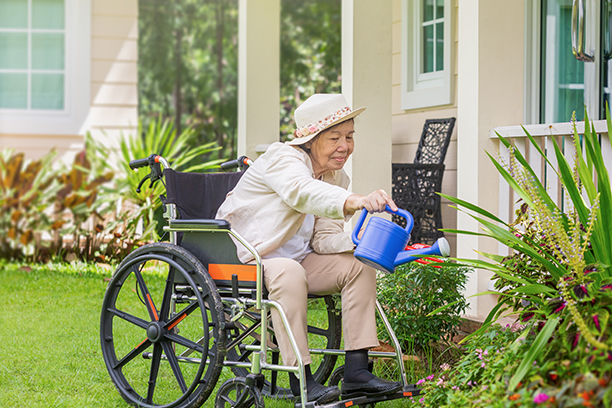 How Transitional Care in Orange Reduces Hospital Readmissions
Ready-Set-Go Home with Transitional Care
Transitional care is a specific type of home care that helps seniors avoid the risk of rehospitalization. At Visiting Angels® Orange, we've developed a comprehensive transitional care program called Ready-Set-Go Home. As the name says, this program supports seniors with the process of preparing for a hospital discharge and transitioning back to their daily routine at home.
What Causes Hospital Readmissions in Orange?
Many seniors' readmission to the hospital stems from their struggle to look after their well-being once they return home. For those who feel particularly weak or tired after a long hospital stay, even basic routines can be difficult to accomplish. This can lead them to skip follow-up appointments, confuse medication schedules, and fail to cook healthy meals. The consequential decline in their health can result in complications and rehospitalization.

How Visiting Angels Orange Helps with Hospital Discharges
When you hear that nearly 20% of Medicare beneficiaries return to the hospital within a month of their discharge, you may worry about your loved one's chances of being rehospitalized. Fortunately, there is a way to minimize this risk and promote their well-being through the discharge process.
As part of Ready-Set-Go Home, our care providers meet with seniors and their family caregivers before the discharge occurs. We provide clients with our Ready-Set-Go Home discharge planning guide to assist with the preparation process. In addition, we help build a service plan that ensures all their needs will be met in the weeks following their discharge.
When the senior returns home, they won't have to worry about being unable to complete basic activities. One of our caregivers will be there to offer a helping hand with any tasks they find challenging, whether that's bathing, remembering to take medication, or attending doctors' appointments. Our caregiving team also focuses on building relationships with clients, acting as reliable companions throughout the recovery process.
Our approach to transitional care also includes support from our local office in the Orange area. The staff at our care agency have access to innovative resources that make it possible to identify clients who may need extra support. They can also arrange deliveries, prompt important reminders, and coordinate caregiving schedules.
Could your loved one use a helping hand before, during, and after their upcoming discharge in Orange, Anaheim, Fullerton, Placentia, Villa Park, or a nearby town? Contact Visiting Angels Orange today to request a free transitional care consultation!
Serving Orange, Placentia, Fullerton, Anaheim, Villa Park, and Surrounding Communities
Visiting Angels
ORANGE, CA
2914 E Katella Ave #204
Orange, CA 92867
Phone: 855-86-ANGEL
714-948-5001
304700367