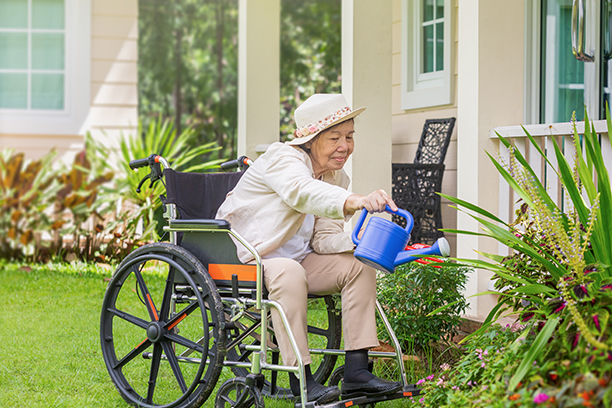 Alzheimer's Homecare for Seniors Throughout Orland Park, LaGrange, IL, and Neighboring Communities
Visiting Angels Provides Essential Alzheimer's Homecare, Customized to Your Loved One's Unique Needs in Orland Park, LaGrange, and Nearby Cities

If your loved one has been diagnosed with Alzheimer's or dementia, you might feel like your only option is to move them into a live-in care facility. But just like any other health diagnosis, the severity of the disease and its impact on your loved one will determine the type of care that is needed. At Visiting Angels of Orland Park, we offer essential homecare for those with Alzheimer's or dementia diagnoses that can help your loved one remain comfortable at home for longer.

More than 5.1 million Americans face Alzheimer's every day with the help of family, friends, community, caregivers, and other Alzheimer's care services. Your loved one will need a network of support to help them as their needs change throughout the course of the disease.
In the Beginning Stages:
You may notice that memory loss interrupts daily life but does not completely disrupt it. Your loved one might have trouble remembering a recipe or tracking monthly bills.
Your homecare solution will revolve around companionship care, with a dedicated caregiver developing rapport and a respectful relationship with your loved one. That caregiver can help with meal preparation, mobility needs, transportation to doctor's appointments, and much more.
In the Intermediate Stages:
You might notice that changes in cognition are becoming disruptive to everyday life. Your loved one may be struggling with misplaced items, remembering words they want to use, or following directions or conversations.
Your homecare solution can include increasing the number of hours per day that your loved one spends with a caregiver. Your care plan can adjust to include emotional support services or daily updates to yourself or another family member on your loved one's health and status.
In the Late Stages:
You may notice that your loved one struggles to communicate. They likely need help with every aspect of their daily needs, including personal care. They may become withdrawn, depressed, or experience mood swings.
Your homecare solution can evolve into around-the-clock care, to ensure that your loved one has support no matter what time of day or night it is. A caregiver can perform personal care services, such as bathing, dressing, and toileting.
Do You Have a Loved One with Alzheimer's Disease?
If you are helping to care for a loved one with Alzheimer's or dementia in Orland Park, LaGrange, or the surrounding area, Visiting Angels of Orland Park is ready to help. Call our agency today at 708-226-1028 to learn more about our customizable care plans. Our staff will be happy to schedule a free, in-home assessment with one of our care coordinators to help you get started with our services.
Serving Orland Park, LaGrange, Flossmoor, Hinsdale, and the Surrounding Area
Visiting Angels
ORLAND PARK, IL
11532 W 183rd St #NW
Orland Park, IL 60467
Phone: 708-226-1028
Fax: 708-226-1025