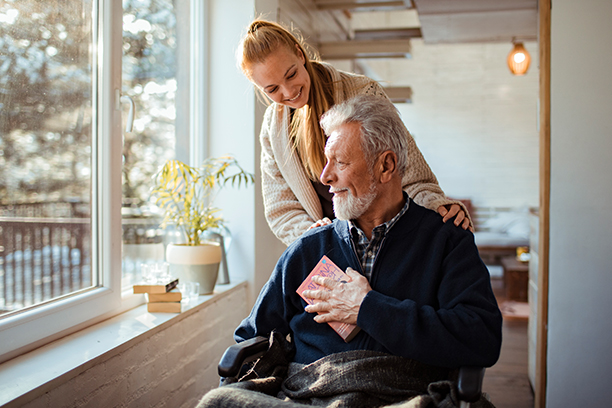 Dementia Care in Winter Park
How To Help When They Say They Want To Go Home
For families providing dementia care to a loved one in Winter Park, a common issue that arises is how to handle their requests to "go home." It's helpful to have some helpful tips at the ready for these occasions. At Visiting Angels® Winter Park we offer the following advice:
Check first that immediate needs like food, water, injury, or overdue restroom visits are not the actual source of your loved one's discomfort. It's not uncommon for the idea of "home" to be symbolic for another unmet, physical need.
Always validate the request before redirecting and/or distracting. Your loved one may be losing the ability to process thoughts effectively, but they are likely still aware of being ignored. A kind and reassuring word that you've heard them and an acknowledgement of their request is important.
After validating, pivot immediately to redirect and/or distract. For example, you might suggest beginning to clean up in preparation for "going home" and then find a task such as folding towels or dish rags to redirect their focus.
Instead of going home, lead them down Memory Lane. As you probably already know, your loved one's long-term memories are the last to go. Use this to both your advantage. If they ask to go home, use that time to ask questions about their home and their past, giving them the opportunity to reminisce about cherished memories. It's possible that just talking about home will not only distract but satisfy.
Resist the temptation to reason or use logic. If your loved one says they want to go home and they already are home, you may think it's better to just tell them "No, Mom, you are home, remember?" Logic and reasoning are frontal lobe functions that they are likely no longer able to perform. Asking them to do so can be very anxiety producing and counter-productive.
Consider enlisting the help of a dementia care provider in the Winter Park area. Having a dementia care professional visit your loved one on a regular basis will give the entire family the kind of peace of mind you all deserve. We don't always have the kind of time we'd like to devote to our loved one. Having the extra attention of a professional who is solely focused on them can be life changing.
Dementia Care Referrals in the Winter Park Area
At Visiting Angels Winter Park, we've developed an exclusive network of local, qualified, and compassionate dementia care professionals ready to help. We'll conduct a free in-home care assessment and offer you a referral to two or more caregivers who meet your needs. The decision is yours and you're in control. You'll never be pressured into working with anyone you don't feel absolutely comfortable with.
We provide dementia care referrals for residents of:
Winter Park
Orlando
Maitland
Alafaya
Aloma
Azalea Park
Eatonville
Union Park
And the surrounding areas
For more information or to schedule your free consultation for assessment and referral to a dementia care provider in Winter Park, reach out to us today!
Serving Orlando Downtown East and Winter Park, Florida
Visiting Angels ORLANDO, FLORIDA
2221 Lee Rd #17
Winter Park, FL 32789
Phone: 407-236-9997
30211313