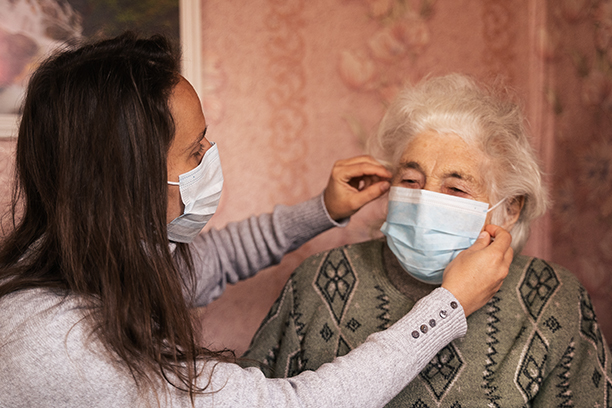 Trusted & Compassionate Living Assistance
Find A Compassionate Home Care Provider through Visiting Angels Orlando
The home care provider you choose for your loved one will play a significant role in his or her everyday life. Your loved one's home care provider is also likely to play a major role in your own life. It's important to find a home care provider you can trust and who will put your loved one at ease. Many families in the Orlando area turn to Visiting Angels® Orlando for a referral to a compassionate home care provider.
Visiting Angels Orlando is an at home care nurse registry agency. Our referred home care providers care for seniors and the disabled at home so they can avoid a move to an assisted living facility. With the assistance of our experienced, professional caregiver network, your loved one can continue to enjoy independent living.
Carefully Chosen Home Care Providers
Each home care provider who works within the Visiting Angels Orlando nurse registry has been carefully chosen for their experience and compassionate nature. We take great care in selecting the home care professionals for our network. Each caregiver goes through an intensive interview program. Our multi-stage interview process helps us to determine which caregivers have the experience, knowledge and character to become part of our registry. It's not enough for a caregiver to be a skilled professional. To become part of our referral network, a caregiver must also be able to demonstrate that he or she is an individual of superior character.
The close personal relationships caregivers develop with their clients are because of their open, caring personalities. To our network of caregivers, home care is more than just a job it is their life's work. They take the relationships they develop with their clients very seriously. Your home care provider from the Visiting Angels Orlando nurse registry will spend time getting to know your loved one. They will ask questions about their likes and dislikes, favorite activities and memories as they build a trusting and caring relationship. At Visiting Angels Orlando, our referred caregivers often become like family to their clients.
Choose Your Home Care Provider
To help your loved one find a home care provider they will enjoy spending time with, we ask you to choose your own caregiver. We'll introduce you and your loved one to several caregivers and give you the opportunity to interview each of them. When you find the caregiver your loved one is most comfortable with, let us know and that home care provider will begin at home visits.
You can find a trustworthy, compassionate home care provider through Visiting Angels Orlando. Call our office today for more information about our at home care services referrals.
Serving Orlando, Ocoee, Kissimmee, St Cloud and Communities in Southern Orange & Osceola Counties, FL
Visiting Angels ORLANDO, FL
3501 W Vine St #351
Kissimmee, FL 34741
Phone: 407-957-9333
License #30211299