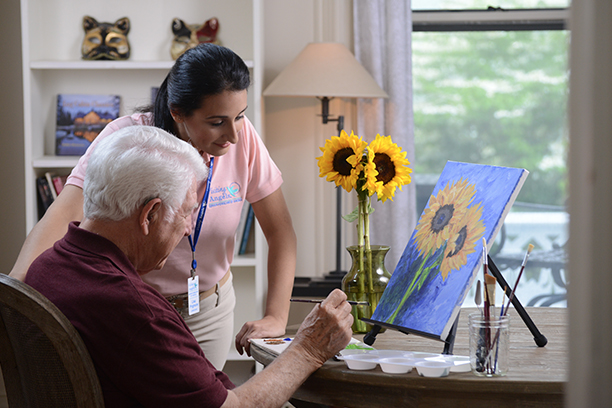 Our Experience
Find Experienced Senior Home Care Providers through Visiting Angels Orlando
It is so important to find an experienced senior home care provider to care for your loved one. An experienced senior home care provider will have the skills necessary to provide a superior level of care. An experienced caregiver will also be able to put your loved one at ease. If finding an experienced senior home care provider is important to you, call Visiting Angels Orlando.
Professional Senior Home Care Providers
At Visiting Angels® Orlando, we understand how important it is that your loved one works with an experienced caregiver. An inexperienced caregiver may overlook changes in your loved one's routine or behavior that can be indicators of larger concerns. That's why we only refer to senior home care professionals who have previous experience in the field. Each of the caregivers in our referral network has been through a multi-stage interview process where we carefully examine their experience and approach to care.
Once we are confident a senior home care professional has the skills to meet our standards for care, they are asked to provide both personal and professional references. We carefully check all references so we can be confident of the character of the caregivers we hire. Finally, all caregivers must pass a criminal back ground check prior to joining the Visiting Angels Orlando nurse registry.
The selection of senior home care professionals for our nurse registry is something we take very seriously at Visiting Angels Orlando. We understand you trust us to guide you towards superior senior home care services. We don't take that trust lightly, and we will do everything in our power to maintain your trust. We would never refer a caregiver without knowing that we would be completely confident having them care for a member of our own family.
We are proud to work with many experienced senior home care professionals. We have both home health aides and Certified Nurse's Assistants on our registry. With Visiting Angels Orlando, you will be able to select the caregiver you are most comfortable working with. We'll never assign a caregiver without giving you the opportunity to meet him or her first.
Finding an experienced senior home care provider who can meet your loved one's needs is essential. Call Visiting Angels Orlando today for a referral to a senior home care professional with the skills to provide superior care for your loved one.
Serving Orlando, Ocoee, Kissimmee, St Cloud and Communities in Southern Orange & Osceola Counties, FL
Visiting Angels ORLANDO, FL
3501 W Vine St #351
Kissimmee, FL 34741
Phone: 407-957-9333
License #30211299