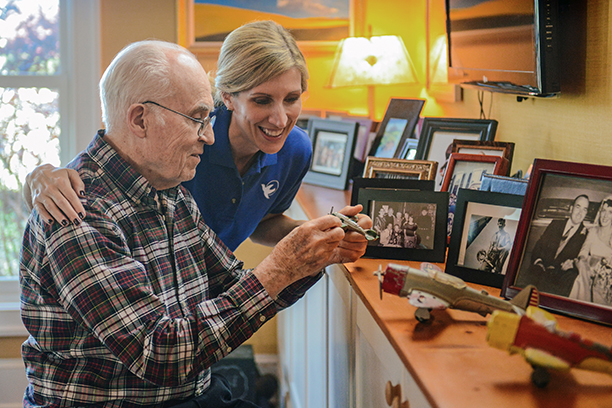 Our Experience
Elderly Care Assistance from Visiting Angels Oshkosh WI
Experienced elderly care assistance is just a phone call away for those in Menasha, Neenah, Omro, and other communities near Oshkosh WI. Visiting Angels has been delivering top notch in home assistance nationwide for close to 20 years. Our experience and expertise at providing non-medical care to seniors has made Visiting Angels Oshkosh WI one of the top agencies offering elderly care assistance in home.
Meeting Your Elderly Care Assistance Needs
When you think of experienced home care, what image comes to mind? A caregiver who is dependable and punctual? How about someone who is knowledgeable when it comes to assisting seniors? Perhaps you picture an angel of sorts, who is able to help your loved one with a variety of tasks while tending to their emotional needs. At Visiting Angels Oshkosh WI, we believe our elderly assistance caregivers possess all of these qualities. Not only do we provide experienced care, we do so with compassion and respect.
Providing elderly care assistance requires knowledge and finesse when helping with a wide range of services. Visiting Angels Oshkosh Wi has caregivers to help your loved one with activities of daily living such as helping them get to and from doctor's appointments and errands. Additionally, we can help your family member start their day on the right foot by assisting with dressing and personal hygiene, helping prepare a nutritious breakfast, and even accompanying them on a walk. This is just a small sampling of the elderly care assistance that Visiting Angels Oshkosh WI can offer.
Trust the Respectable Providers from Visiting Angels Oshkosh WI
You can trust the Angel companions from Visiting Angels Oshkosh WI to provide responsible elderly care assistance. We utilize a multi-step interview process that looks at a candidate's criminal history, background, previous employment, and references. If we are satisfied with all of that, we then consider applicants who are active in the senior care community or who possess employment history or training in senior care. Finally, if all of the technical aspects are up to our standards, we take note of a caregiver's personality. We look for professionals who have a cheery and compassionate nature and who are able to make others feel at ease in their presence.
If you are considering elderly care assistance in Oshkosh WI for your parent or loved one, contact Visiting Angels Oshkosh WI for experienced care you can count on.
Serving Winnebago County
Visiting Angels
OSHKOSH, WI
300 S Koeller St Suite G
Oshkosh, WI 54901
Phone: 920-312-7000
Fax: 920-328-0324