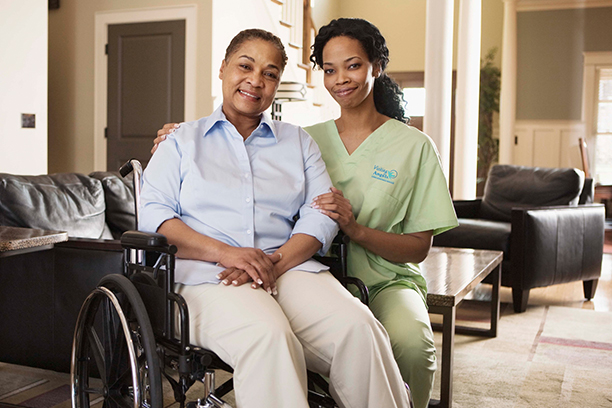 Commonly Asked Questions About Alzheimer's Care for Families in Palm Beach Gardens, FL and Surrounding Areas
Visiting Angels provides answers to the most frequently asked questions about Alzheimer's care for seniors living in Palm Beach Gardens, Juno Beach, Jupiter and surrounding areas in Florida
Alzheimer's disease is a degenerative memory disorder that progresses slowly over time. People who suffer from this form of dementia will grow increasingly dependent on family and their caregivers. Eventually, the disease will affect every aspect of a person's daily life. At Visiting Angels Palm Beach Gardens, we provide specialized Alzheimer's care to help seniors and their families who are dealing with the effects of this disease. To find out how our home care services can help your loved one, continue reading below.
The Facts About Alzheimer's
What is Alzheimer's Disease?
Alzheimer's disease is the most common form of dementia. In fact, 50 to 80 percent of dementia cases are diagnosed as Alzheimer's.
What Are Common Symptoms of Alzheimer's?
As we age, our brain naturally begins to slow down when it comes to processing information. Gradual memory loss over time, confusion and a loss in reasoning skills is not normal and can mean that brain cells are failing.
The most common first symptom of Alzheimer's is having trouble storing and remembering new information. This is because Alzheimer's effects the part of the brain that processes new and incoming information. Symptoms will become more severe as the disease progresses, and people can experience disorientation, extensive memory loss, behavioral changes, mood swings and confusion about time or events. When the symptoms become moderate to severe, it is important to have a support system that includes professional in-home Alzheimer's care.
Can Symptoms Worsen Over Time?
Alzheimer's disease grows progressively worse over time. The first symptoms of Alzheimer's usually consist of limited memory loss and decreased reasoning skills. Alzheimer's is the 6th leading cause of death in the United States, however, the way it is managed can extend someone's life expectancy from 8 years to 20 or more.
Is Alzheimer's a Normal Part of Aging?
Alzheimer's disease is not a normal part of aging. While many people living with Alzheimer's are over the age of 65, a very small percentage of people experience early-onset Alzheimer's in their 40s or 50s.
Does Alzheimer's Have a Cure?
Alzheimer's disease currently has no cure. While no cure for the disease exists, there are treatments available that can make the symptoms more manageable and improve the person's quality of life.
How Can Visiting Angels Palm Beach Gardens Help Seniors with Alzheimer's?
If you have a loved one who has been diagnosed with Alzheimer's disease, our professional and compassionate caregivers are here to help. At Visiting Angels Palm Beach Gardens, we offer quality in-home Alzheimer's care to improve the lives of seniors and help them maintain their independence for as long as possible.
Our caregivers help seniors with Alzheimer's by providing:
Wandering prevention

Help with running errands

And more
To learn more about our services, call our Palm Beach Gardens, FL office at 561-264-0866 and ask how our Alzheimer's care services can help your loved one.
Serving Palm Beach Gardens, Palm City, Jupiter, Juno Beach, Hobe Sound, Stuart, West Palm Beach and throughout Palm Beach County and Martin County, FL
Visiting Angels
PALM BEACH GARDENS, FL
8645 N Military Trl #407
Palm Beach Gardens, FL 33410
Phone: 561-264-0866
Fax: 561-328-7607