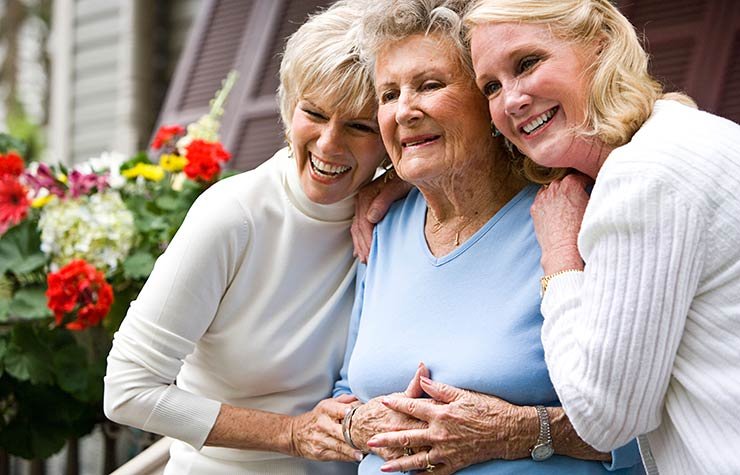 HOW TO HANDLE SIBLINGS SENIORS AND STRESS
What can you do when siblings don't help with Seniors parents? It is way too easy and common for conflicts to arise when some siblings live far away and some live nearby. Why else is it that certain family members don't take on their fair share of responsibility and assist with caregiving duties? Surprisingly the answer is that it often has nothing to do with being "lazy" and "uncaring." Sometimes a sibling just doesn't know where to start or how to contribute. Ever think they might feel like you don't want or need their help?
Unless you have been in the situation before, most folks people don't realize how much time, energy, and sacrifice being the family caregiver really takes. This article is going to cover the following:
Understanding what causes sibling tension,
Rebalancing caregiving responsibilities when one person has been doing all the work,
Handling disagreements about how much help your parents need, and
Steps to take when siblings won't help out.
Sibling tension erupts as emotions swell while watching your parents decline. It is a time where old family arguments and rivalries resurface. This manifests itself as fighting over who does or doesn't do something, how much each person does, and who's in charge.
Rebalancing the caregiving responsibilities is generally needed because it's not often something that's discussed upfront or in advance. A crisis erupts and someone tends to jump in and do what's necessary to get through it, either because they are the closest, have the most time, or are the most capable. Sometimes siblings fall into a trap assuming that the son will handle the finances and the daughter will handle everything else. Or the adult child without a job, or without kids, should be in charge of care. Instead of suffering quietly, getting angry, or quitting altogether, call a meeting to reset expectations and discuss fairly redistributing the responsibilities. If there's too much conflict between siblings, consider getting a neutral, unbiased person to facilitate the meeting.
Everyone in the family has a different idea what Mom and Dad need, and some may actually be in denial about their having an illness or serious condition. Siblings deal with their parents' decline in differing ways. Sometimes parents also try to hide their condition from certain children, and some siblings may not see what the primary caregiver sees. It may be helpful to have them speak to the doctor in order to get up to date on the true medical situation.
What to do when siblings won't help out?
Be realistic, it is never going to be "even-steven." Focus on what each person is best at and can do under the circumstances based on time, location, work, other family commitments and financial funds.
Whoever lives closest will be the one who can pick up a prescription, go to a doctor's appointment, or rush to the ER in an emergency. However, long-distance siblings can help with phone calls, finances, landlords, home health agencies, insurance matters etc. Acknowledge each other's strengths. Not everyone has patience or is good with hands-on care.
The long-distance sibling should refrain from telling those on the scene what to do when they don't have a full understanding of the situation. Conversely the sibling nearby should listen with an open mind, so brothers and sisters feel they are involved and helpful. Perhaps encourage them to come for a visit to see things first-hand and also provide a respite period for you to recharge.
Focus on your parents care to avoid squabbling. Avoid getting defensive or being resentful, and remain respectful of each other. Conversations need to be productive. Conflict only makes the situation more difficult and will eventually also cause your parents to become upset.
It makes the job a little easier when siblings are kind to each other. Caregiving is a tough job and takes patience. Some parents are uncooperative, angry, or unappreciative, at least siblings that get along have each other to lean on when the going gets tough.
Don't assume siblings can read your mind or are aware of everything that is going on. If you need help with certain tasks, don't be afraid to specifically ask for it. It could be doing research on meds, home health agencies, medical specialists. It could be a talk convincing Dad he shouldn't be driving anymore. Or just help getting the bills paid and calling the LTC insurance company.
Communicate often and share important information. It makes siblings more likely to help. Ask yourself honestly, what do you want from them, what do you need from them……do not send mixed signals. For example, some family caregivers will refuse help because they want control or think they can do it all themselves, but then get angry because they're not getting any help or no one else offers to chip in.
Last but not least, when you do ask for help, be careful of your tone and body language. If you're angry or resentful, that's what your siblings will see and hear even if the words you use are polite.

If all else fails, get help from a neutral third party, or professional outside the family. A Care Manager or Home Health Agency are also good choices.

Arrange for respite care from a Home Health Agency to give yourself a break before your caregiving duties begin to take a toll on your own health and wellbeing.
Contact Us:
If you are the primary family caregiver, consider respite care for a loved one so that you can take a break and recharge. In cases of serious illness, or dementia, if hands on care for your loved one becomes too much of a burden, we can help you as much or as little as you need. Our caregivers are trained in the proper COVID protocols and can help with hygiene, shop, cook, manage meds, and help prevent falls to keep your loved one out of the hospital, which is a high-risk environment at this time. If you need help at home or someone to check on a loved one, assistance is just a phone call away at 561-328-7611.
This article not intended as medical, legal or financial advice.