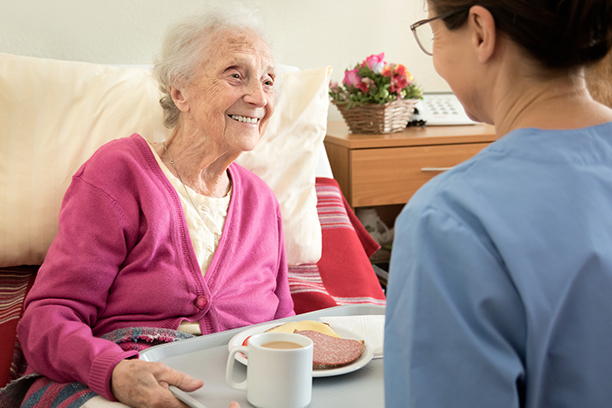 Home Care Solutions for Seniors with Alzheimer's in Palm Beach Gardens, FL and Surrounding Areas
Professional home health services from Visiting Angels help elderly adults in Palm Beach Gardens, Jupiter and Juno Beach, FL get the home care solutions they need to manage Alzheimer's symptoms while safely aging in place
According to the study done by Alzheimer's Foundation of America in 2012, over 5 million people in America are living with the devastating memory disease. The memory loss condition causes slow decline in not only memory, but also thinking and rationalizing abilities. Although it can be a demoralizing condition for an individual, it doesn't mean that there aren't viable home care solutions available to you and your family today.

If you think that your senior loved one may be experiencing symptoms of the condition, it is crucial to get a proper diagnosis made and a plan of care initiated. Doing so will improve the quality of their life and proper home care solutions will make sure that they continue living the life they know and deserve. But it can be difficult to determine if changes in behavior are a sign of Alzheimer's or just part of the typical aging process.
These are the 10 warning signs of Alzheimer's:
Memory loss that affects daily life: Not remembering day to day information like where things are, people's names, and other small bits of information.
Challenges solving problems: Taking longer to do normal tasks like following recipes, taking care of monthly bills, or difficulty concentrating on things that we easier before.
Trouble with completing familiar tasks at home or at work.
Confusing times and places: People suffering from Alzheimer's can often confuse the date, how much time has passed, or even what season it is.
Issues understating visual images and special relations: Difficulty reading, judging distance, or recognizing colors and names can be a sign of Alzheimer's.
New issues with words and/or speaking: Difficulty completing sentences, finding the right word, and following conversation flows.
Misplacing items and difficulty retracing their steps: People living Alzheimer's will often forget where they place their day to day items.
Decrease in judgement when making decisions: Less attention to personal grooming and overall increase in vulnerability.
Withdrawing from work, family, or other social activities.
Changes in their mood or overall personality: Increased signs of depression, anxiety, and withdrawal are common.
How Home Care Solutions from Visiting Angels Can Help Seniors with Alzheimer's in Palm Beach Gardens and Surrounding Communities
Although there is currently no known cure for Alzheimer's, there are treatment options and home health services available to minimize the toll that dementia and memory loss will do to an individual with the condition.
If your senior loved one is experiencing any of the warning signs of Alzheimer's, it is of crucial importance to see a doctor and get a proper screening completed. It is also important to understand it is a normal part of the aging process and a proper plan of care with the home health services that we provide at Visiting Angels Palm Beach Gardens can help living with the condition that much easier. Our home care solutions can get your loved one the home health services they need to manage symptoms that stem from Alzheimer's and make living with the disease less stressful.
To learn how our Alzheimer's care services can help your loved one, contact our Palm Beach Gardens, FL office today at 561-264-0866 to get a free in-home consultation.
Serving Palm Beach Gardens, Palm City, Jupiter, Juno Beach, Hobe Sound, Stuart, West Palm Beach and throughout Palm Beach County and Martin County, FL
Visiting Angels
PALM BEACH GARDENS, FL
8645 N Military Trl #407
Palm Beach Gardens, FL 33410
Phone: 561-328-7611
Fax: 561-328-7607