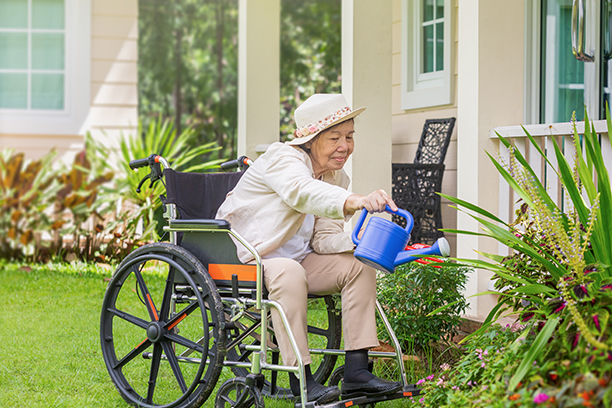 Long-Term Private Home Care Services for Seniors in Palm Beach Gardens
In their senior years, your loved one can develop various health conditions that can make completing daily tasks challenging. Some activities they took for granted before, such as walking around their home, putting their clothes on or preparing meals can become too difficult for them. If your parent has found themselves in a similar situation, moving them to a nursing home is not your only options. In fact, they can receive professional care and support without moving someplace else thanks to local agencies that provide private home care services.
"Both my parents have long-term care insurance and navigating through this whole process has been completely overwhelming. Laura made it easy to understand and took the time to answer all my questions. My parents' caregiver, Sharon C. is kind, caring and competent. We have been thankful for her warmth and dedication."
- Beth G.
With long-term care from Visiting Angels Palm Beach Gardens, seniors living in Palm Beach Gardens, Palm City, Jupiter, Juno Beach, Hobe Sound, Stuart, West Palm Beach and surrounding areas can age comfortably at home and receive the level of care they require. Our caregivers can assist your loved one with various daily tasks and help them manage their symptoms.
What Does Long-Term Care from Visiting Angels Palm Beach Gardens Include?
At Visiting Angels Palm Beach Gardens, our goal is to make your loved one's life a little bit easier with experienced in-home care in Palm Beach Gardens and the surrounding areas. By helping them with everyday activities we can ensure they remain safe, happy and comfortable at home.
We offer a wide variety of private home care services, such as:
With our private home care services, your loved one can easily manage age-related difficulties and symptoms of their illness.
How Can Long-Term Care Help My Loved One?
There are so many ways our clients benefit from our long-term care services. Those who struggle with chronic illnesses receive the help they need to manage their symptoms and stick to a healthy daily routine.
Seniors in our care who have been diagnosed with Alzheimer's, Parkinson's, and other forms of dementia receive one-on-one assistance with daily tasks, as well as monitoring that ensures their safety.
When it comes to older adults who are receiving in-home treatment for cancer, we provide them with assistance with everyday tasks and meaningful companionship. In case your loved one struggles with mobility issues, they will be able to move safely around their home and remain comfortable in familiar surroundings with personalized support from our caregivers.
How Can My Loved One Afford Private Home Care Services?
We understand that private home care services can be expensive for some families. However, there are ways you can offset the cost of care, and the best one is long-term care insurance. If your parent has a policy, understand what it covers. Our team can work with you to answer any questions you may have about what your loved one's insurance plan covers, whether their insurance policy can cover the cost of our services and how we can help your loved one get the support they need.
To learn more about our long-term care services, contact our office in Palm Beach Gardens, FL at 561-328-7611.
Serving Palm Beach Gardens, Palm City, Jupiter, Juno Beach, Hobe Sound, Stuart, West Palm Beach and throughout Palm Beach County and Martin County, FL
Visiting Angels
PALM BEACH GARDENS, FL
8645 N Military Trl #407
Palm Beach Gardens, FL 33410
Phone: 561-328-7611
Fax: 561-328-7607
"My 90 year old mother fell and broke her arm a year ago and was in real need of home care. Knowing the great reputation of Visiting Angels, I called them after checking their recent(wonderful) reviews. This gave me the confidence to start services. We had to do 24 hour care for many months as mom couldn't do much for herself. Our experience has been very positive, the caregivers have been competent and caring. Honorable mention needs to go to our care coordinator Jackie who has always been willing and able to meet requests, listen attentively to mom's changing needs and make any adjustments in hours and staffing! I am out of state and knowing that my mother's needs are met for safety and compassionate quality care is priceless!"
– Debbie D. (More reviews here)
Rating: 5/5 ⭐⭐⭐⭐⭐