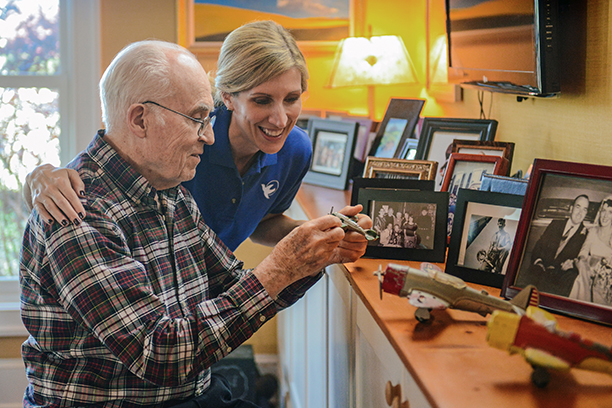 Meal Planning and Preparation for Seniors in Palm Beach Gardens, FL
Unfortunately, due to poor eating habits, many seniors, even those who are overweight, are malnourished. Some older adults eat too little, while others eat meals that are not nutritious at all. Unfortunately, malnutrition can cause or worsen many chronic conditions seniors are prone to.
That is why here at Visiting Angels Palm Beach Gardens, we offer senior home care assistance with meal planning and preparation for elderly adults in Palm Beach Gardens, Juno Beach, Jupiter, West Palm Beach and surrounding communities in Palm Beach and Martin Counties in Florida.
Through our personalized options for senior home care assistance, we help elderly and disabled adults maintain their independence and live quality lives in their golden years. Our quality senior care options have helped thousands of older adults and have given their families peace of mind knowing that their loved ones are in the capable hands of our trained caregivers.
Why Healthy Eating is Important for Seniors in Palm Beach Gardens and Surrounding Areas
As people age, they gradually lose their strength which is one of the reasons why many seniors are malnourished. Since they become weaker with age, older adults can no longer spend time in front of the stove preparing quality, healthy home-cooked meals for themselves.
As your parent or other loved one ages, they may begin to choose processed and unhealthy meals because they are easy to prepare and can be bought anywhere. All they need to do is take out a TV dinner from their freezer, put it in a microwave, and they have a hot meal in a matter of minutes.
These habits are especially harmful to seniors whose health is declining since these processed foods are full of salt, sodium, and many unnatural preservatives. Luckily, with senior home care assistance from Visiting Angels Palm Beach Gardens, your loved one can enjoy home-cooked meals prepared only with quality ingredients.
Meal Planning & Preparation as Part of a Comprehensive Care Plan
Our caregivers will go to the grocery store or farmers market to get ingredients and prepare meals and snacks that your parent can access quickly when hungry. As a part of our meal planning and preparation services, we will help your loved one follow their doctor's orders pertaining to their eating habits, provide feeding assistance when needed and remind your loved one to drink fluids to stay hydrated.
Thanks to senior home care assistance from Visiting Angels Palm Beach Gardens, your loved one can achieve a better quality of life.
If you wish to learn more about our meal planning services or senior care services, please do not hesitate to contact our office in Palm Beach Gardens, FL at 561-328-7611.
Serving Palm Beach Gardens, Palm City, Jupiter, Juno Beach, Hobe Sound, Stuart, West Palm Beach and throughout Palm Beach County and Martin County, FL
Visiting Angels
PALM BEACH GARDENS, FL
8645 N Military Trl #407
Palm Beach Gardens, FL 33410
Phone: 561-328-7611
Fax: 561-328-7607