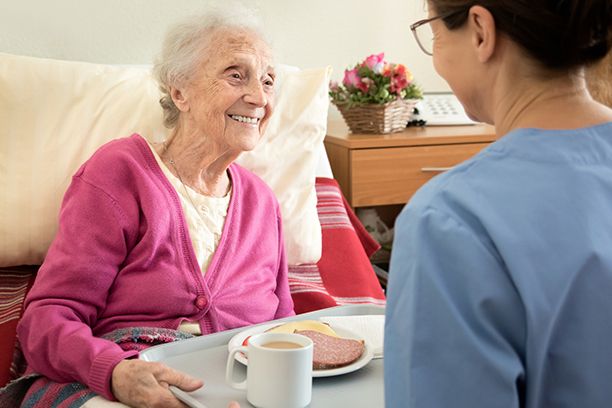 Home Care Services
Home Care Services in Palm Desert
Do you have a loved one in need of home care services in the Palm Desert area? If you or a loved one needs assistance with basic living tasks, now is the time to investigate home care services. Please call Visiting Angels Palm Desert to learn about our home care services and how they can help you or a loved one to continue living independently at home.
At Visiting Angels Palm Desert, we assist families from Palm Desert to La Quinta with a wide variety of home care services. Our caring, professional home care services providers help their clients with many daily living tasks including meal preparation, diet monitoring, light housekeeping, personal care and hygiene assistance, medication reminders, and running errands. With the assistance of our caring home care services professionals your loved one will have the help they need.
When you call our Palm Desert office for home care services, our service coordinators will take the time to learn about your needs. We don't just offer you a menu of services to choose from. Each of our clients receives personalized attention and care. We understand that you have a unique set of needs and health concerns. Our home care services professionals will learn about your needs in order to create your care plan.
Our home care services professionals are available on an as needed basis. Some of our clients only require companionship care. For these clients, their home care services professional may only stop by a couple of times a week to check in and help with a few basic tasks. We have other clients with more intensive needs. For these clients, we offer care up to and including 24 hour, live-in care. Our caregivers are available seven days a week, including holidays, to ensure your loved one receives the best possible care. To ensure we can accommodate such a wide range of needs, we take great care in getting to know you and in creating your home care services plan.
When you work with Visiting Angels Palm Desert, you will also have the opportunity to choose your caregiver. We want you to be completely comfortable with the caregiver who will be visiting your home. That's why we ask you to meet with several caregivers and to let us know which one is the best fit for your needs.
We encourage you to call our Palm Desert office any time you have questions or concerns. When you call our office, we'll always try to answer the phone and your questions. However, sometimes things get busy and phone calls are redirected to voice mail. If this ever happens, we'll return your call with 15 minutes.
Finding home care services for your loved one in the Palm Desert area doesn't have to be complicated. Call Visiting Angels Palm Desert today to find out how our home care services can help your family.
Serving Palm Springs, CA thru the La Quinta, CA Area
Visiting Angels PALM DESERT, CALIFORNIA
73700 Dinah Shore Dr #105
Palm Desert, CA 92211
Phone: 760-328-1700