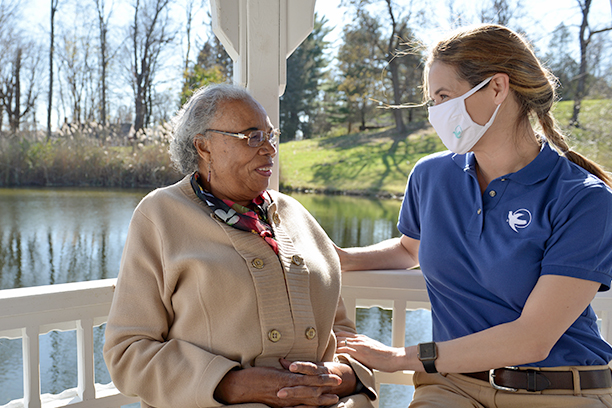 Our Character
Elder Care Services for Your Loved One in Palm Desert
When choosing elder care services for your loved one in the Palm Desert area, it's essential you have confidence in the caregiver you choose. The elder care service provider you choose should be an experienced professional who understands the needs of your loved one. Your elder care services provider should also be a caring, compassionate professional who understands that quality care means more than just meeting your loved one's physical needs. But where can you find this kind of elder care services provider in the Palm Desert area?
At Visiting Angels Palm Desert, we understand the concerns you face as you search for an elder care services provider. We want you to find the elder care services provider who will put you at ease and bring you peace of mind. Our caregivers are among the most experienced elder care services professionals in the Palm Desert area. They come to us with a wide range of experiences, with stellar resumes, and references from health care professionals and families throughout the area.
Perhaps most importantly, our elder care services providers are compassionate caregivers who understand the importance of providing care with dignity, respect and kindness. Each of our elder care services professionals has been chosen for their unique ability to connect with their clients. You will find our elder care services providers are the type of individuals who go the extra mile. They want to learn about your loved one on a personal level so they can provide a superior level of care. Many of our clients tell us that they keep in touch with their elder care services provider long after our services are needed. It's these lasting connections that make our caregivers so special to our clients and to us.
However, we do recognize that these connections won't happen overnight or by magic. That's why you'll have the opportunity to meet with and choose your own elder care services provider. Only if you're comfortable with your caregiver will you be able to have that special connection that raises our elder care services to the next level.
We invite you to call our office in Palm Desert to learn more about our elder care services.
Serving Palm Springs, CA thru the La Quinta, CA Area
Visiting Angels PALM DESERT, CALIFORNIA
73700 Dinah Shore Dr #105
Palm Desert, CA 92211
Phone: 760-328-1700