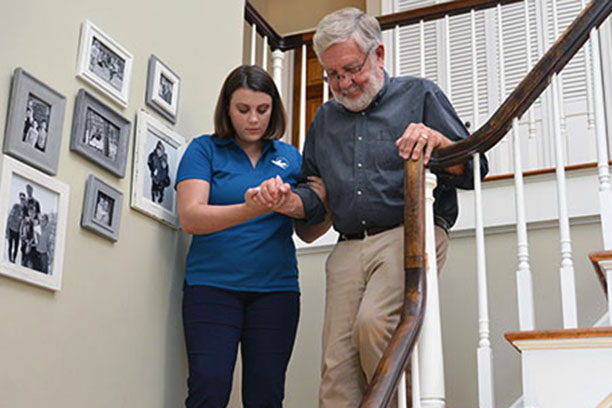 How Our In-Home Caregivers Help Seniors in Dallas, TX Avoid Falls
Falls present a serious health risk for older adults in the Dallas area and are one of the main reasons why seniors lose their independence. After sustaining a fracture or an injury caused by a fall, many older adults require support from family members or a professional in-home caregiver while they recover. The recovery itself can be a long and arduous process.
A dedicated in-home caregiver from Visiting Angels Dallas can help with fall prevention and enable your mom or dad to continue living independently in a safer, fall-proof environment.
How Can Falling Impact Seniors?
Physical injury is not the only consequence here. Falls can also significantly impact one's emotional well-being as seniors can develop a fear of falling. This fear often causes seniors to avoid leaving home, decline social invitations, and miss important family events. Social withdrawal can further lead to feelings of anxiety and depression, significantly reducing a person's quality of life.
To showcase just how serious falls can be to aging adults, here are some facts:
On average, one in three older adults falls every year, while one in five sustains a severe injury such as a broken hip, a fracture or a concussion
Those who fall once have a higher risk of falling again
More than 800,000 individuals are hospitalized each year as a direct result of falls
Recovery from a fall can take up to a full year in a long-term care facility
What Typically Leads to Falls?
In most cases, falls are caused by one or more risk factors. In older adults, falls usually occur due to several risk factors combined. Some of the most common fall risk factors in older adults include:
Chronic physical conditions such as Parkinson's disease, arthritis or osteoporosis
Poor vision
Side effects from medications which can affect balance
Dehydration
Cluttered walkways in the home
Lack of grab bars in key areas of the house
If you are able to recognize and address these risk factors promptly, you or a professional caregiver can significantly reduce fall risks and enhance safety in your loved one's surroundings.
How Can Fall Prevention from Visiting Angels Dallas Help My Loved One Stay Safe?
While fall prevention continues to be a considerable challenge for aging adults, Visiting Angels Dallas is committed to raising awareness about this important issue. Our aim is to educate seniors, their families and each and every in-home caregiver on our team on how to reduce falls.
In addition, our in-home caregivers can help your loved one stay safe in their own home by:
Preparing delicious and healthy meals so your loved one can get the nutrition they need to stay healthy
Reminding your loved one to take their medication on time and monitor them in case they experience any side effects that could impact their balance
Helping your loved one move safely throughout the house
Helping your loved one get in and out of bed safely
Assisting with bathing and showering so your loved one doesn't slip
Helping with light housekeeping, including sweeping and removing clutter from walkways
And so much more
Schedule a FREE In-Home Consultation
If you want to know more about how one of our in-home caregivers can help your loved one prevent falls, please get in touch with Visiting Angels today. Call our Dallas, TX office and schedule a free in-home assessment to develop a fall prevention program tailored to your loved one's needs and risk factors.
Serving Park Cities, Lakewood, Lake Highlands, East Dallas, Casa Linda and Surrounding Communities in Dallas, TX
Visiting Angels
PARK CITIES, TEXAS
8350 N Central Expy #M1018
Dallas, TX 75206
Phone: 214-368-2225
Fax: 214-853-5328