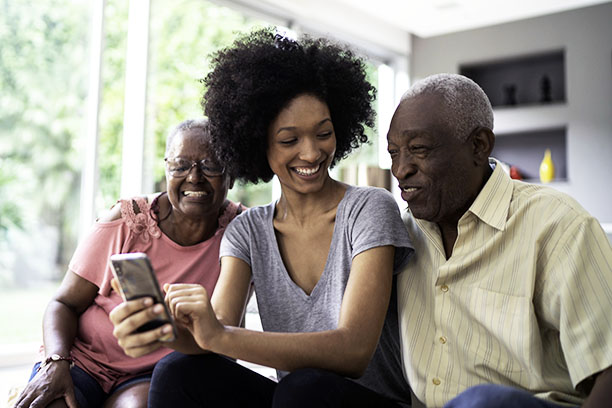 Visiting Angels Helps Seniors in Dallas, TX with Social Care
Visiting Angels understands the importance of digital technology for seniors in Dallas, TX, which is why our elder care services can help your loved one use social media and their smartphone to stay connected with friends and family
Social isolation can be a major problem for seniors who choose to age in place. Mobility and cognitive issues can keep them from being around loved ones, making family outings and get-togethers with friends a bigger challenge. Fortunately, using social media can help seniors in Dallas, TX spend time with the people they care about—no matter where they are.
At Visiting Angels Dallas, we are here to tend to not only the physical needs of our clients but their social needs as well. Because of our holistic approach to elder care services, our clients are able to lead active, happy and fulfilled lives. We understand that sometimes family members are not able to visit their senior loved ones as much as they want to. However, by learning how to utilize modern technology your parent can stay connected to their loved ones. Our Social Care program—just one of the many elder care services we offer in Dallas and surrounding communities—can help seniors stay in touch with family and friends via platforms like Facebook, Skype, FaceTime and more.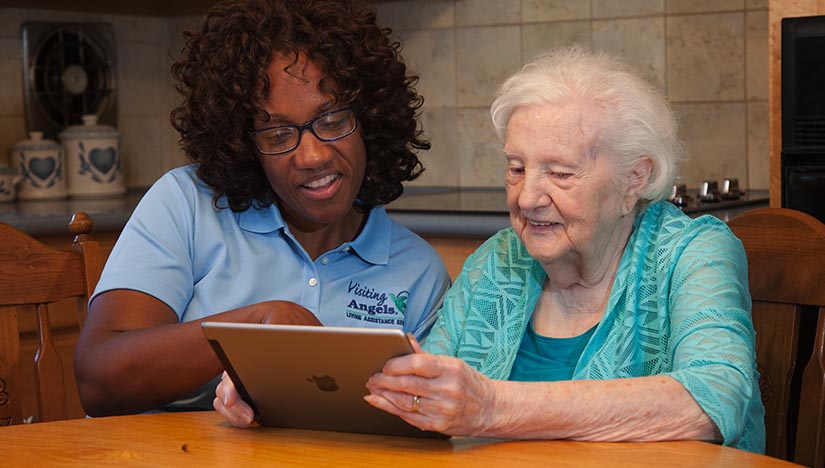 How Can Social Media Benefit Seniors?
Aging adults can really benefit from knowing how to use social media to keep in touch with friends and family. Studies have shown that surfing the internet can reduce depression in older adults by 20 percent*. Additionally, a University of Arizona study found and using Facebook can improve their working memory.
Social media can also create a positive emotional experience based on breathing rates, brain stimulation and pupil dilation**. Since visiting social media platforms helps seniors have a positive emotional experience, teaching seniors how to create a Facebook profile, use video chat programs and other digital platforms is essential to improving their well-being.
What's Included in the Social Care Program?
At Visiting Angels Dallas, we're committed to providing in-home elder care services to improve the quality of life for seniors in our care. Our Social Care program helps us achieve this goal by providing many ways for seniors to stay in touch with friends and family, even if they can't go out as often due to age-related difficulties.
Through this program, our caregivers will help your loved one learn how to create an account on social media sites and message their loved ones.
We can also teach your senior loved one how to use their phone in order to text, send e-mails and even use FaceTime. Seniors who have health or mobility issues find online shopping very useful. As a part of our Social Care program, we can teach your parent to shop online and research information they are interested in on a search engine.
With our qualified and compassionate caregivers, your parent will be able to stay connected with their loved ones even if they live miles away. Remaining engaged in life will improve their overall quality of life and make their days filled with happiness and joy.
If you believe that our elder care services can help your loved one's well-being, do not hesitate to contact us. Call Visiting Angels Dallas and let us know how we may be of service to you and your parent.
* Washington, D.C. based Phoenix Center
** Journal Cyberpsychology, Behavior, and Social Networking
Serving Park Cities, Lakewood, Lake Highlands, East Dallas, Casa Linda and Surrounding Communities in Dallas, TX
Visiting Angels
PARK CITIES, TEXAS
8350 N Central Expy #M1018
Dallas, TX 75206
Phone: 214-368-2225
Fax: 214-853-5328