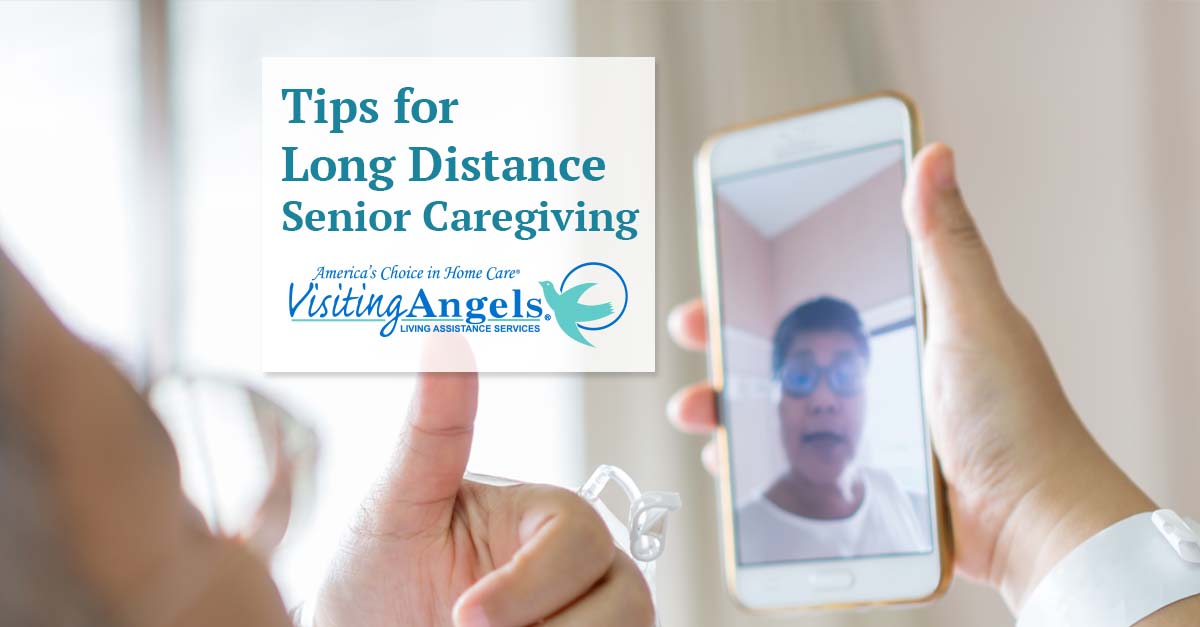 Tips for Long Distance Senior Caregiving
Long distance Senior Caregiving can be tough at the best of times. However, the COVID-19 pandemic has forced it upon millions of Americans despite having had no training or prior experience.
We know how difficult that can be for the entire family; that's why we refer senior home care services for all kinds of needs - from companion care to 24/7 caregiving.
The Centers for Disease Control and Prevention says isolation among seniors can:
Increase rates of anxiety, suicide and depression
Cause four times the risk of premature death
Cause a 50% increase in dementia
A 29% increase in heart disease
A 32% increase in stroke
Here are our tips on making long distance senior caregiving a success:
How to Provide Long Distance Senior Home Care?
Identify Your Loved One's Needs
First up, identify your loved one's needs. In some cases, this might be daily living care with tasks such as getting dressed, hygiene and cooking.
Alternatively, your loved one might only need someone around once a day to make sure their health and spirits are in good shape.
Ask your loved one what parts of daily life they find difficult. Ensure that the question covers physical, logistical and emotional needs.
Have a Family Meeting
You need to communicate as a family (or with close friends) to work out who can help your loved one and who can't, while also considering what each person needs from the arrangement.
If there are still gaps in the schedule or too much strain placed on the family, then consider contacting a senior home care service.
Assess Your Loved One's Home
As we all get older, it's important to ensure our homes are suitable for senior living. We advise you to assess your loved one's home for any risks of tripping, falling or general struggles.
Fixing loose carpet, adding grab bars, easy-to-use tech and emergency buttons can provide peace of mind for all.
Consider Who You Can Trust
As you're at a distance, you need to ask whether the people available can be trusted or if it's fair to put pressure on them?
Are they reliable, caring friends? Will they be able to drop everything to get to your loved one in an emergency?
Consider Senior Home Care Services
Sometimes, arranging family or friends to be reliable at all times for a loved one can be unrealistic. There's no shame in that. We all have other responsibilities, kids and jobs to tend to.
If that's the case in your family, consider obtaining senior home care services in Tampa, FL.
Visiting Angels is a licensed Florida Nurse Registry that refers experienced caregivers to provide in-home care, so your loved one is looked after without going to a nursing home. You are in charge of choosIng your caregiver, all arrangements, schedules and needs.
You also will gain peace of mind, knowing your loved one is in good hands with a licensed senior caregiver who will keep in contact with you regularly.
Get Regular Updates
Once you've started long distance senior caregiving, getting regular updates is crucial - that includes with doctors, friends and caregivers.
Sadly, seniors can be at risk from abuse.
There are often warning signs that something isn't going well:
Mood changes
Spending or saving issues
Increased isolation
Unexplained injuries
Stress or anxiety
Checking in once a day or a few times a week can keep you in close contact with your loved one, ensuring they're safe and feeling close to you still.
Make The Most of Modern Tech!
Skype, Zoom and Facetime are your friends when it comes to long distance senior caregiving. Scheduling a call with grandkids or friends can bring a sense of optimism to a week and brighten up the darker days.
We understand that not every senior is comfortable using the internet, so that's why the long distance senior caregivers we refer help, set up calls, webcams and computers so they can focus on what matters - talking to their families.
Take Care of Your Family Caregiver
You have limits too. If you're working long hours while caring for a loved one, you might get burnt out.
When this happens, we always advise Respite Care.
Respite care is temporary senior care giving that allows your family caregiver to take a break for a while, or to reduce the burden placed on them in the schedule moving forward.
Make Plans for Emergencies
If an emergency happens, having a plan in place can make all the difference. That's especially true when you're far away from your loved one.
Create a plan involving your family and caregivers so that you all know what your responsibilities are if an emergency arrives.
Also, plan so you can act fast personally. If you need to travel to your loved one, who will take care of your kids or pets on command?
Plan and prepare. It can literally be a lifesaver.
Plan Visits
If the pandemic allows it, then pick a date in the diary and stick to it. Having that date can give your loved one something to look forward to.
It also ensures you don't keep kicking the can down the road, going months without seeing your loved one.
Make The Most of Your Visits
It might seem like obvious advice, but you'd be surprised how many people take visits for granted. At the end of the day, time together is what matters most in life.
Plan ways you can make memories together or do the things that you love together most. That might be watching a sports game with your Dad, or eating your favorite food with your Mum.
Whatever it is, plan ahead and make the visits worth the wait.
Coordinate Information
Whether you hire a senior home care service or not, it's advised that you stay on top of your loved one's long-term needs.
Financial matters and legal paperwork need to be arranged. So staying in touch with the right people and organizing documents can benefit you, your loved one and your family over time.
Long Distance Senior Caregiving in Tampa, FL
Visiting Angels provide solutions for long-distance senior caregiving by referring you a licensed senior caregiver. Visiting Angels is trusted by families and seniors throughout Tampa and beyond. The experienced caregivers we refer take care of the heavy load, so your loved one and family can thrive, regardless of where you're located. Contact us to learn about our senior home care services in Tampa, FL.