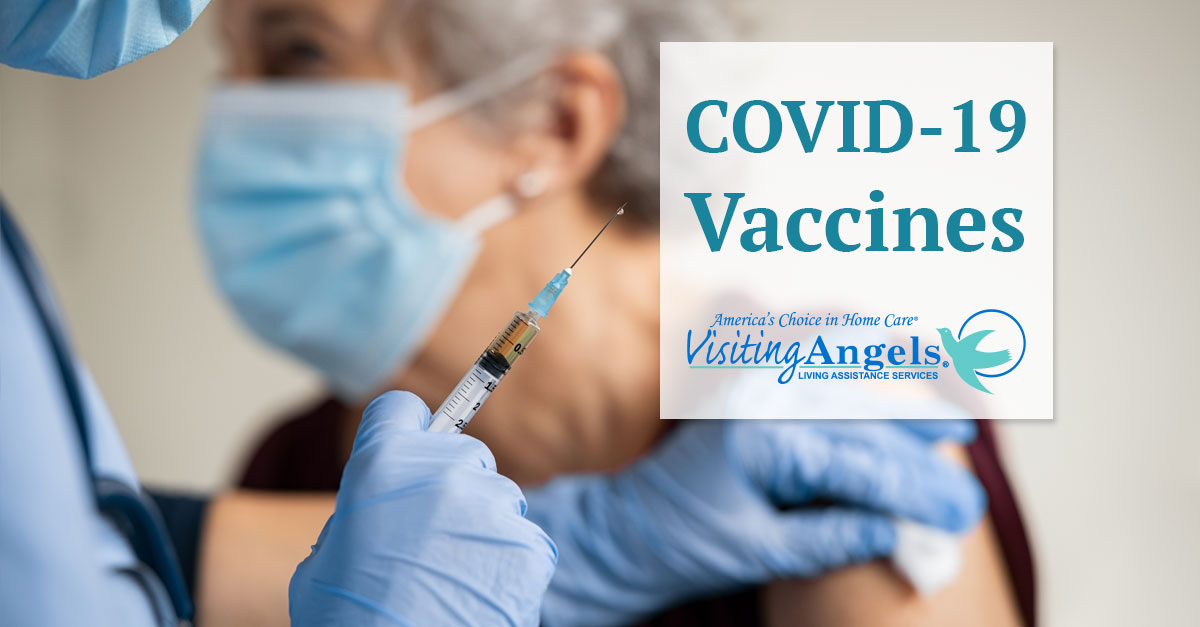 What Older Adults Need to Know about COVID-19 Vaccines
COVID-19 vaccinations have allowed us to see the light at the end of the long pandemic tunnel. Since the start of 2021, hundreds of millions of people have received doses of the COVID-19 vaccine. If you're an older adult, you're first in line.
Whether you're worried about safety or confused about how to get one, here are the key facts older adults need to know about COVID-19 vaccines in the U.S.:
The COVID-19 vaccines are safe and have passed rigorous trials.
You can't get COVID-19 from the vaccine.
All adults in the U.S. can take the vaccine now.
Why Do I Need the COVID-19 Vaccine?
The risk of severe illness and death from COVID-19 increases with age. COVID-19 vaccines are safe and effective and protect you against getting sick.
The Center for Disease Control and Prevention (CDC) recommends that all adults 65 and older receive COVID-19 vaccines to protect themselves from getting sick.
The CDC reports that 95.4% of COVID-19 deaths have occurred in older adults aged 50+. That's because with age, our immune systems generally weaken and we're more likely to have chronic medical conditions.
Even if you've had COVID-19, you still need to be vaccinated as there is no evidence of immunity.
Life After Becoming Fully COVID-19 Vaccinated:
Two weeks after your final COVID-19 vaccination means you're fully vaccinated. A moment of relief and joy! You can:
Visit homes without masks with other fully vaccinated people.
Visit homes without masks with non-vaccinated people who are not at risk of severe illness.
Travel in the U.S. without a COVID-19 test or quarantine.
Gain peace of mind knowing you're protected from the COVID-19 virus.
How Do I Get the COVID-19 Vaccine in Tampa, FL?
COVID-19 vaccines are now available to all adults across the U.S., allowing us to protect ourselves and each other. They're easy to get. Here are various ways you can find a vaccination location near you and book an appointment:
Use VaccineFinder.org to find a vaccination location near you.
Check your local pharmacy's website.
Contact your state or local health department.
Ask a family member or close friend to help with scheduling an appointment.
Ask your doctor, pharmacist or community health center if they're providing vaccinations. If not, ask them where you can get one.
Call the Senior Connection Center's Elder Helpline at 1-800-963-5337 or visit SeniorConnectionCenter.org.
Have I Missed My Chance for a COVID-19?
No. Although older adults were amongst the first to receive the vaccination, anyone 18 and older can now receive a COVID-19 vaccine.
If you missed an appointment or never arranged one, don't worry - you can still get one now.
You Will Not Be Charged for Your COVID-19 Vaccine
Rest assured that COVID-19 vaccination providers cannot and shouldn't:
Charge you for your vaccination.
Charge you any administration fees, copays, co-insurance or any other bills.
Deny you a vaccination if you don't have health insurance or are underinsured etc.
If someone tries to charge you, it is a scam. Never share your financial information.
However, COVID-19 vaccination provider can:
Receive reimbursement for your plan or program for a vaccine administration fee.
But you, the recipient, should never be billed.
Does the COVID-19 Vaccine Hurt?
Most people will only feel a quick minor poke or pinch in their arm. The needles are relatively small and nothing to be afraid of.
What Are the Different Types of COVID-19 Vaccines?
Thanks to the impressive work of scientists across the globe, there are several COVID-19 vaccines currently being used.
The best COVID-19 vaccine is the first one that is available to you. All have been authorized and recommended by both the World Health Organisation and the CDC.
| | | | |
| --- | --- | --- | --- |
| Vaccine Name | What Age Groups Can Get It? | How Many Shots Are Needed? | When Are You Fully Vaccinated? |
| Pfizer-BioNTech | 16+ | 2 shots. Each one 3 weeks (21 day) apart. | 2 weeks after your second shot. |
| Moderna | 18+ | 2 shots. Each one 4 weeks (28 days) apart. | 2 weeks after your second shot. |
| Johnson & Johnson's Janssen | 18+ | 1 shot. | 2 weeks after your one and only shot. |
Johnson & Johnson Vaccine Pause
"Out of an abundance of caution," the CDC and FDA recommended a pause in the use of the Johnson & Johnson vaccine on April 13th.
This was following an small number of reports of rare and severe blood clots. Now, this pause allows regulators to assess whether these blood clots were linked to the vaccine and whether that affects the vaccine's use.
Al the reports were among women aged 18-48. There have so far been 7 million doses of the Johnson & Johnson COVID-19 vaccine.
There is no link between the findings and pause with the other two vaccines.
Are COVID-19 Vaccines Safe?
Have COVID-19 Vaccines Been Trialed and Tested?
COVID-19 vaccines have passed the FDA's rigorous scientific standards for safety, effectiveness and manufacturing quality for emergency use authorization.
You can read more about the testing and how the vaccine was produced quickly here.
Comparing the Risks of COVID-19 Vaccines
Many people are concerned about blood clots and severe reactions. Here are the risks related to other common risks and vaccines.
| | | |
| --- | --- | --- |
| Vaccine/Cause | Reaction | Cases per 1 Million People |
| COVID Related Deaths in the U.S. | Deaths from COVID-19 | 1,700 |
| Johnson and Johnson vaccine | Venous Thromboembolism (Blood clots) | 1.1 |
| Moderna vaccine | Anaphylaxis Allergic Reaction | 2.5 |
| Pfizer vaccine | Anaphylaxis Allergic Reaction | 5-11 |
| AstraZeneca Oxford vaccine | Pulmonary Embolism (Blood clots in the lungs) | 1.3 |
| Women taking oral contraceptives. | Venous Thromboembolism (Blood clots) | 1,000 |
| Paracetamol/ Acetaminophen | Clotting disorders | 1,000 |
| Hepatitis B Vaccine | Anaphylaxis Allergic Reaction | 1 |
| Rubella Vaccine | Platelet disorder | 50 |
| Flights over 12 hours long. | Pulmonary embolism (Blood clots in the lungs) | 5 |
| Aspirin | Bleeding disorders | 100,000 |
Data taken from Reuters study.
Do You Have a History of Allergic Reactions?
If you have had a severe allergic reaction or an immediate allergic reaction to any ingredient in the vaccine you're scheduled to receive you should not get it. If you have a history of severe allergic reactions, speak to your doctor for further information on which vaccine is safe for you.
What Are The Side Effects of the COVID-19 Vaccine?
You may have some minor side effects - this is normal. This is a sign that your body is building protection and are often seen in all kinds of vaccines.
Some people have no side effects, while others may experience some that affect their ability to perform daily activities. However, they will go away after a day or so.

It is normal to experience:
Swelling, redness and pain on the arm that was injected.
Fever
Headache
Tiredness
Muscle pains and aches.
Chills
Nausea

You will be asked to stay for 15-30 minutes after your vaccination, to ensure any rare chance of a severe reaction is protected against.
When to Call a Doctor?
Contact your doctor or healthcare provider if:
You believe your symptoms are getting severe or aren't going away after a few days.
If the redness or soreness where you got the shot has got worse after 24 hours.
Medication For Side Effects
Before the vaccination - The CDC recommends that you don't take over the counter medicines before your vaccination (ibuprofen, aspirin, antihistamines or acetaminophen). However you should take your regular medications.
After the vaccination - You can take over-the-counter medications to treat side effects.
Does the COVID-19 Vaccine Have Long Term Side Effects?
Many people ask this question. Serious side effects that could cause long-term health problems are extremely unlikely.
In the history of vaccinations, long-term side effects are extremely rare and have almost always been noticed within six weeks of receiving a vaccine dose.
The trials for the COVID-19 vaccines began back in July and August 2020. Millions of people have now been studied, with no-long term side effects being reported.
Preparing for Your COVID-19 Vaccination
Once you've found a vaccination center and booked an appointment, you can look forward to getting protected!
Ensure you're able to travel to the vaccination center on time and get back safely.
Arrange travel with a family member or friend, if you can't get there yourself.
If you have any questions about the medications you're taking, talk to your doctor or vaccination provider.
The CDC recommends people don't avoid, stop or delay their current medications.
Make sure you bring along the required paperwork that proves you live in the state - photo IDs, Florida driver's license etc.
Bring proof of your vaccine appointment - either a printed copy or a screenshot.
Wear clothes that allow easy access to your upper arm for the vaccine.
After Your COVID-19 Vaccine
As mentioned above, side effects are normal. To reduce discomfort from potential side effects, you can:
Apply a clean, wet cloth over the injection area on your arm.
Gently move or exercise your arm.
Drink plenty of water.
Dress lightly.
How to Avoid Misinformation About COVID-19 Vaccines
When it comes to vaccines, it's important you're reading the facts and not the fiction. Social media users are particularly prone to misinformation.
Rumors and misunderstandings can pass quickly, creating many myths surrounding the COVID-19 vaccine and hesitancy. To avoid misinformation, you can:
Don't trust images and posts shared on Facebook that aren't from trustworthy sources.
Read reputable and trusted sources for information on the COVID-19 vaccine, such as the CDC, FDA and World Health Organisation.
Fact check information that you can come across online that you think might be suspect. You can do this by using Fact Checker tools such as this one by Google (which uses reputable sources).
Remember that the COVID-19 vaccines are safe and have passed rigorous testing.
Common Myths About COVID-19 Vaccines
Senior Home Care Services in Tarpon Springs, FL
If you're interested in senior home care in Tarpon Springs, FL, for a loved one then contact Visiting Angels today. Whether you're ready to get started or would like to learn more, we'll be happy to have a conversation with you or your loved one.
You can call us at (727) 841-8440 today.