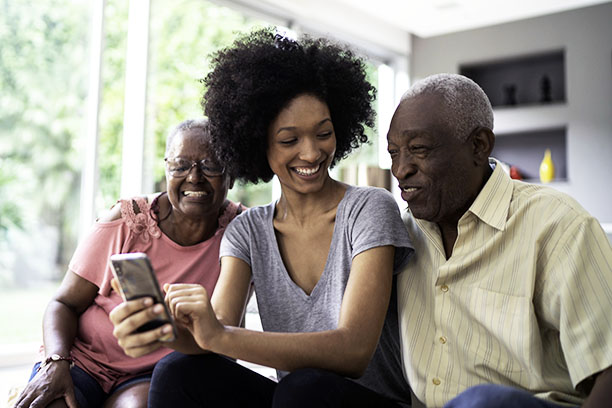 Elderly Care: Social Care Program for Seniors in Wayne, NJ and the Surrounding Area
Social Care is an Important Part of the Elderly Care Visiting Angels Provides to Seniors in Wayne, Passaic, and Nearby Cities
At Visiting Angels of Wayne, we believe that providing quality elderly care involves catering to our clients in a variety of different ways. We cater to their physical and emotional needs, but we believe that their social needs are just as important. All these aspects better our clients' wellbeing overall and uplifts their quality of life.
Recent scientific studies view social isolation as detrimental to the overall well-being of older adults. Those who are isolated tend to have a higher percentage of health-related issues. With increased socialization comes a world of benefits including reduced depression, better sleep, increased productivity, and a strengthened immune system.
The Global Council on Brain Health (GCBH) has shown that increased socialization helps "thinking skills and slows cognitive decline later in life." Maintaining social relationships betters an older adult both inside and out.
Recent studies have shown that:
Surfing the internet can reduce depression in seniors by 20 percent.*

A University of Arizona study finds seniors that used Facebook showed a 25 percent improvement in mental "updating" skills. This essentially means improving their working memory.

Another study shows seniors who visit social networking sites like Facebook have a positive emotional experience. This is measured by their breathing rates, pupil dilation, and brain stimulation.

**
Maintaining key relationships with friends and family is very important. With the help of modern technology, we help our clients stay connected with their loved ones through platforms like Facebook, Skype, and FaceTime to remain active and engaged.
Our Social Care Program Teaches Seniors To:
Use a cell phone (call, text message, etc.)

Use Skype and FaceTime

Make a Facebook account and use the website

Log in, shop online, and use a search engine
Would you like to know more about social care and our elderly care in general? To help your loved one take the next step, call Visiting Angels of Wayne at 973-321-6057.
* Washington, D.C. based Phoenix Center
** Journal Cyberpsychology, Behavior, and Social Networking
Serving Passaic & Bergen Counties including Wayne, Passaic, Clifton, and nearby Cities
Visiting Angels
WAYNE, NJ
2190 Hamburg Turnpike #A
Wayne, NJ 07470
Phone: 973-321-6057
Fax: 973-839-3668