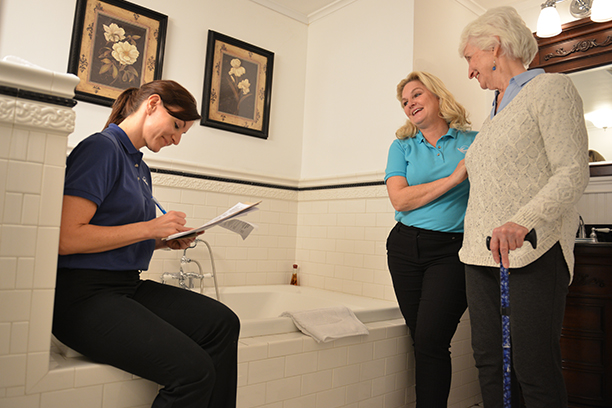 How Transitional Care in Pittsburgh East Reduces Hospital Readmissions
Ready-Set-Go Home with Transitional Care
Did you know transitional care is available for older adults in Pittsburgh East who want to reduce their risk of hospital readmission? When a senior is ready to be discharged from the hospital, this does not necessarily mean they are ready to care for themselves at home. Receiving dedicated at-home care from a professional care provider can make a huge difference in their outcome as well as their experience of recovery.
Visiting Angels® Verona is a small, community-focused care agency with an overarching mission of helping seniors age in place. Elderly adults who are readmitted to the hospital shortly after discharge often undergo a series of hospital stays that can reduce their independence and lower their quality of life. Our aim is to prevent this cycle before it gets started through our specially designed Ready-Set-Go Home program.
What Causes Readmissions in Pittsburgh East?
Almost one fifth of seniors who receive Medicare benefits are rehospitalized in four or fewer weeks after being discharged. This number is alarming, especially for families who know how important it is for their loved ones to remain at home.
It is thus common for families to ask why repeat hospitalizations are so common for older adults. There is no correct answer to this question, as every case is different. However, one factor that is shared among many rehospitalized seniors is a lack of help at home. Those who struggle to complete basic tasks alone may find they are less likely to adhere to their doctors' orders and more likely to face complications.
How Our Transitional Care Program Helps
With this in mind, we've built an entire senior care program on the premise of helping seniors in the hospital avoid a swift return. Our Ready-Set-Go Home program focuses on delivering care when seniors need it most.
Here's what our three-prong approach looks like:
Initial support at the hospital. We provide much-needed guidance during the process of discharge planning.
High-quality help at home. Seniors can benefit from professional support with daily routines, gentle reminders, and the presence of an understanding companion.
Assistance from our care agency. Our local staff members are ready to coordinate care visits, deliveries, reminders, and monitoring.
Learn about transitional care through a free consultation in Pittsburgh East, Arnold, Lower Burrell, Monroeville, Penn Hills, Murrysville, New Kensington, Plum, Verona, or a town in the vicinity! Call Visiting Angels Verona today!
Serving Pittsburgh, Monroeville and Surrounding Eastern Suburban Communities
Visiting Angels
VERONA, PA
722 Allegheny River Blvd 1st Flr
Verona, PA 15147
Phone: 412-828-4435
Fax: 412-828-7292