When Should I Find Dementia Care Services in Great Barrington?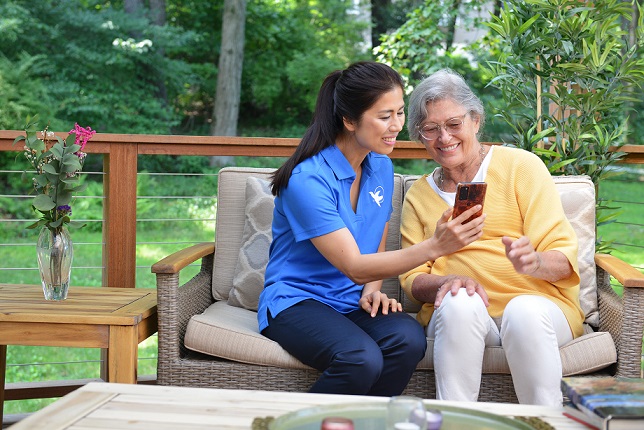 Living with dementia presents many challenges, especially for seniors who live alone. In order to protect your loved one and help them remain in their own residence, there will come a time when you need to step in and provide one-on-one support. With our dementia care services throughout the Great Barrington area, Visiting Angels® Berkshires is ready to help. We provide customized in-home assistance to help seniors with dementia live at home with added safety and comfort.
To begin, we'd like to share some common indicators that suggest your loved one is in need of more support.
Signs That it is Time for Dementia Care
Declining self-care.
Tasks like bathing, grooming, and getting dressed become physically difficult for many seniors. Our caregivers can provide assistance in these areas to help your loved one maintain a dignified and healthy daily life.

Household falls.
Home accidents can be devastating. If your loved one is at risk, we can help out with mobility aid, fall prevention, and other support to reduce fall hazards.

A messy home.
If you notice that their home is always messy and disorganized, this is another key sign that they need some help. We can take care of light housework, meal prep, and more to make life easier.

Breaks from reality.
Those with dementia often suffer moments of extreme confusion and even delusion. Having a reliable caregiver around in their weakest moments can be a wonderful benefit. We take pride in providing attentive care that anticipates their needs.

Depression and isolation.
Seniors are at greater risk of emotional issues such as loneliness and depression. Without a source of consistent social contact, these problems will only get worse. With our dementia care, they can also count on the warm, loving, and positive companionship of a trusted friend.
Choose Our Dementia Care Services in Great Barrington
If your loved one has physical limitations, memory issues, or seems to be lonely or sad, now is a great time to get started with our care. We can provide the support and companionship your loved one needs to maintain life at home and avoid the difficult adjustment of moving to a care facility. To achieve our goal of providing the best care plan for each senior, we invite you for a free care consultation to discuss your needs and learn about your situation.
Our dementia care services are available throughout:
Great Barrington
Pittsfield
Berkshire County
Williamstown
Westhampton
Greenfield
and the surrounding areas
For additional information about our dementia care services in Great Barrington, call Visiting Angels of the Berkshires and arrange your free care consultation today.