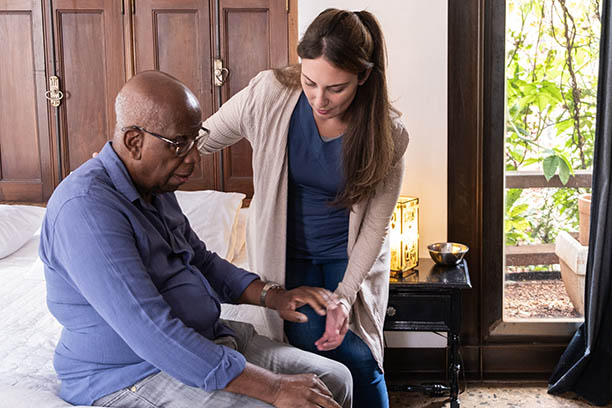 Palliative Care in Pittsfield, MA
Every aspect of our client's well-being is important, and through our Certified Palliative Care program, we cater to them all. Physical, emotional, social, and spiritual needs are all focused on the elevate the client's quality of life. At Visiting Angels, we take into account the traditional definition of care and expand beyond that.
When most people hear the terms "palliative care" and "hospice care" they often think of them as being similar. In reality, each type of care caters to a different kind of client. Hospice care often concerns clients that are heading towards the end of their lives. Palliative care, on the other hand, focuses on easing discomfort and providing quality care for anyone who needs it, despite their life expectancy.
At Visiting Angels, our program's main goal is to make sure that all of our clients are taken care of through specialized, non-medical care and assistance.
Our Certified Care Program
Our program is provided through our Life Care Navigation collection of senior care services. This collection also improves end of life care, which provides support for your family and your loved one during the period of their life.
Our caregivers are focused on being supportive, soothing, and comforting towards our clients. Through our certification program, we approach the concept of care through a holistic mindset and have a mission of restoring hope and assisting with healing.
To achieve this goal, we focus on a wide variety of needs including physical, social, emotional, and spiritual.
We recognize their physical needs by being hyper-aware of their physical cues and signs and providing non-medical care to comfort them.

We recognize their social needs we help them strengthen their relationships with their friends and family. Also, through our care, we provide companionship and compassion.

We recognize their emotional needs by taking a truly compassionate approach to care. We support seniors that are going through depression, loneliness, anxiety, and stress.

We recognize their spiritual needs by bringing hope to our seniors' lives, helping them find comfort and relief from age-specific difficulties.
Learn more about our unique approach to care by getting in contact with Visiting Angels of Pittsfield.
"A near fatal car accident left my father living in a nursing home for the remainder of his life. Dad was always very social and liked chatting with anyone who would sit with him. It was great to work with Sue and Visiting Angels to provide dad with much needed help and social interaction. The time Visiting Angels spent with Dad definitely had a positive impact on his life. My family and I are very thankful for their support."
– Todd M. (More reviews here)
Rating: 5/5 ⭐⭐⭐⭐⭐
Serving Pittsfield, the Berkshires and Surrounding Communities
Visiting Angels
PITTSFIELD, MA
197 South St Bldg A
Pittsfield, MA 01201
Phone: 413-344-9281