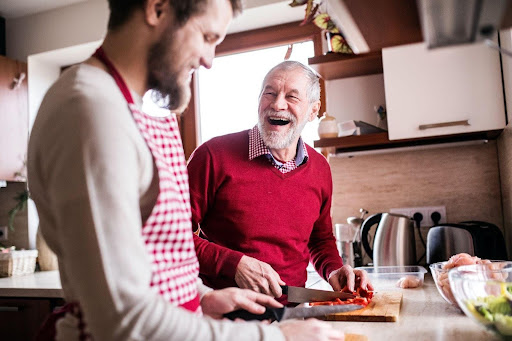 Staying Healthy During Flu and Cold Season
According to the Centers for Disease Control and Prevention (CDC), millions of people seek medical treatment for flu-like symptoms each year in the United States. The flu is a respiratory condition caused by influenza viruses. It can range in severity, but most people experience a fever, cough, sore throat, runny nose, body aches, headaches, and fatigue. While a combination of these symptoms may suggest the flu, these are also signs of a common cold, which affects nearly 1 billion Americans annually.
Peak flu season in the United States is December through February, making now the perfect time to start taking precautions to reduce your chances of catching the flu or a nasty cold.
Tips for Staying Healthy from the Flu and Common Colds
The flu can turn dangerous for anyone, but it's especially concerning for adults 65 and older and those with chronic medical conditions. If left untreated in an older adult, it can lead to hospitalization. It can also cause bacterial pneumonia, ear infections, and sinus infections, which is why it's vital to take the proper precautions to reduce your chances of the flu.
Practice Social Distancing
The flu is a contagious condition that spreads from person to person through tiny droplets that develop when a person coughs, sneezes, or talks. When in crowded spaces, especially around people who don't know, practice social distancing. Giving yourself at least six feet between you and the person next to you significantly reduces your chances of the flu or a cold because those infectious droplets can't infect your space.
Wash Your Hands
Many colds spread through germs that get on the hands and infect the body if you touch your nose, mouth, and eyes. Germs from unwashed hands can also infect drinks and food, making you sick when you consume. Wash your hands with warm water and antibacterial soap any time after you use the bathroom, come indoors from time outside, and right before you eat.
Disinfect Your Home
While less likely than human-to-human contamination, it is possible to contract the flu by touching an infected surface. If you have family and friends in your home, make a habit of cleaning surfaces that get touched a lot with a disinfectant. These surfaces include countertops, tables, door handles, and the outside of microwaves and refrigerators.
Keep Your Body Healthy
The better your overall health, the easier it is for your body to fight colds and the flu. Keep yourself healthy with nutritious meals and daily physical activity. Also, make sure you're attending regular doctor's appointments and remembering to take any prescribed medications.
Get a Flu Shot
The CDC recommends flu vaccines for everyone older than six months, especially those considered high risk for hospitalization, including those 65 and older. If you have questions or concerns about the flu vaccination, talk to your doctor to determine if a flu shot is right for you.
Visit Your Doctor
If you start feeling sick, don't wait to visit your doctor. Signs and symptoms of the flu and colds tend to affect seniors more than younger adults, so it's a good idea to get checked out early to prevent further complications. Since the Covid-19 pandemic, many doctors are offering telehealth options where you can connect with your doctor via video through your phone or computer. Virtual appointments make seeing a doctor more efficient, especially if you have trouble leaving home.
How Visiting Angels Can Help
If you're a senior who catches the flu or a cold this season and needs assistance caring for yourself, the team at Visiting Angels Ravenna, Ohio, can help. Our compassionate caregivers can assist with light housekeeping, medication reminders, personal grooming, meal preparations, transportation, mobility, and more. The Visiting Angels Ravenna office serves the Chagrin Valley, Portage, and Southern Geauga counties in Ohio. If you're interested in learning more about our caregiving services, you can complete this form online or call our office at (330) 297-2000.