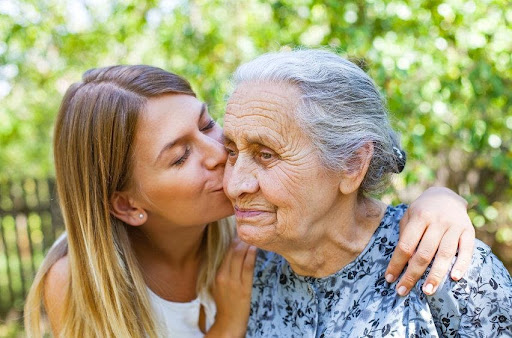 What it Means to Be a Family Caregiver
By 2030, nearly 71 million people will be 65 years and older due to the baby boomer generation growing older, according to the Centers for Disease Control and Prevention. That prediction is double the current senior population, which means there is an urgent need for caregivers.
In most cases, the position of caregiver falls on family members, also known as family caregivers or informal caregivers. Many rewards come with being a family caregiver, but it also comes with many challenges.
What is a Family Caregiver?
A family caregiver is a person who acts as a primary caregiver to another family member. In many cases, a family caregiver is an adult child caring for their senior parents. But a family caregiver can also be a niece or nephew caring for an older aunt or uncle or a grandchild caring for a grandparent.
A family caregiver is also known as an informal caregiver and is an unpaid position. Family caregivers provide senior adults with a range of assistance, from helping clean the house to cooking and scheduling doctor's appointments. Depending on the health of the person receiving the care, a family caregiver may also take over their loved one's finances or act as their power of attorney.
A primary distinction between a family caregiver and a professional caregiver is the family caregiver is not a caregiver by trade. Most often, family caregivers take care of their loved ones and maintain their career and personal life. Since caregiving is not their full-time job, many family caregivers face challenges balancing their work with their responsibilities to their loved ones.
The Rewards of Family Caregiving
Caring for a loved one comes with tons of rewards. In most cases, when you're watching for a loved one, you're spending a lot of one-on-one time with them. This alone time may not be something you've had a lot of in the recent past, and it's a great way to reconnect with your loved one. Many family caregivers build stronger relationships with their loved ones, and both people learn more about each other.
Working as a family caregiver also allows you to see how your actions can impact another person's life. Family caregivers often come into play when their loved one starts having a hard time with something, such as cleaning or caring for themselves. As a family caregiver, you get to see how your actions directly impact the life of your loved one in a positive way.
The Challenges of Family Caregiving
The rewards that come with caregiving are unmatched, but working as a family caregiver comes with challenges. One of the most significant challenges of family caregiving is learning how to balance your career and social life. Caregiving can quickly turn into a full-time job, so it's important to recognize when you feel overwhelmed and ask for help. You can reach out to friends and family to split up the caretaking duties, or you can hire a professional caregiver from a reputable agency, like Visiting Angels.
Another challenge for many family caregivers is the emotional side of seeing your loved one growing old. This is an especially complicated situation for adult children looking after their parents. For at least 18 years, your parents were the people who took care of you, and they were the ones you turned to when you needed guidance. Now, when roles reverse, your parents are the ones who need help, and it's common to feel uneasy or saddened by this shift in the relationship.
How Visiting Angels Can Help
If you're a family caregiver and you need assistance caring for your loved one, the team at Visiting Angels Ravenna, Ohio, can help. We offer respite and part-time care options to help ease the stress sometimes felt by family caregivers. Our compassionate caregivers can assist with light housekeeping, medication reminders, personal grooming, meal preparations, transportation, mobility, and more. The Visiting Angels Ravenna office serves the Chagrin Valley, Portage, and Southern Geauga counties in Ohio. If you're interested in learning more about our caregiving services, you can complete this form online or call our office at 330.297.2000.