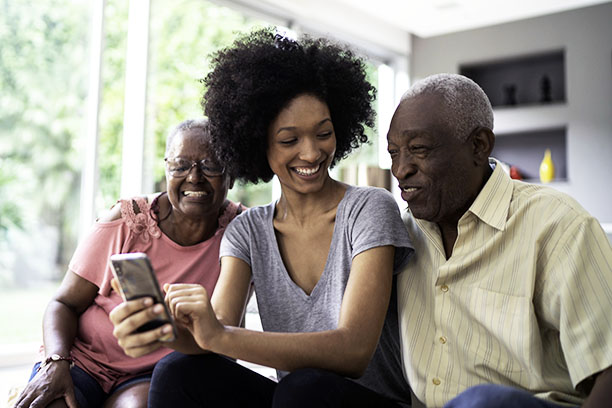 Non Medical Home Care for Socialization in and Near Pottstown, PA
Visiting Angels' Non Medical Home Care Services Include Teaching Seniors How to Use Technology in Pottstown, Sanatoga, Chester Springs, and Surrounding Areas
At Visiting Angels, we know all to well that we must have a modern approach to social care in this modern age of technology. Our non medical home care programs approach this type of care holistically to ensure that our client's needs are met. This holistic approach involves care that's both inside and outside the home. One of our non medical care services includes a social care program that teaches seniors how to use modern technology so they and their family can stay connected through platforms like FaceTime, Skype, and Facebook, allowing your loved one to remain active and engaged.
According To Recent Studies…
Depression in seniors can be reduced by surfing the internet, by as much as 20%.
Older adults who use Facebook showed an improvement of 25% in mental "updating" skills, as per a University of Arizona study, results that show seniors improved their working memory.

Social networking sites like Skype and Facebook lead to a positive emotional experience for the elderly, as noted by another study that measured pupil dilatation, brain stimulation, and breathing rates.
What Does Our Social Care Program Teach Seniors?
Our non medical home care and social care programs teach our elderly clients many things, including how to:
Use a cell phone
Send a text and e-mail
Use Skype or FaceTime
Create a Facebook account and page, as well as how to interact with family and friends online via the platform

Log into any other accounts, shop online, or research information on a search engine
Visiting Angels of Pottstown
At Visiting Angels of Pottstown, we believe that non medical home care should have a different, more modern approach. That is why we created a one-of-a-kind private duty home care program for social care that is truly unique, an approach that is not seen with any other elder care provider. By enlisting the help of our social programs, our clients can stay connected with family and friends, significantly decreasing feelings of loneliness, isolation, anxiety, and depression.
Call us today to find out more about how our non medical home care programs can help your loved one stay happy, healthy, and connected!
Because of this program, I was able to experience two of the greatest joys in life – becoming a grandmother and seeing my son become a new father. Skyping and Facebooking with my son and his family are now a normal part of my life. It helps me feel like I'm still an important part of their lives even though I'm miles and miles away.

* Washington, D.C. based Phoenix Center
** Journal Cyberpsychology, Behavior, and Social Networking
Serving Pottstown, Sanatoga, Chester Springs, Gilbertsville, Neiffer, and the Surrounding Area
Visiting Angels
POTTSTOWN, PA
2129 E High St
Pottstown, PA 19464
Phone: 610-906-1924