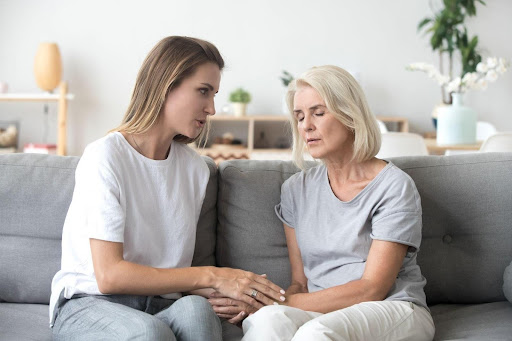 Talking to a Loved One About Their Health
Discussing a person's health can be a sensitive topic, but understanding your aging loved one's health is essential in ensuring they're living safely and comfortably. Heath conversations are also vital among families to know if genetic or hereditary conditions may affect other relatives.
If you're concerned about the health of a loved one, consider the following to start a conversation and learn more about their health and how you can help.
Tips for Talking to Your Loved One About Their Health
It can feel uncomfortable asking a loved one about their health, but there are ways to approach and navigate the conversation.
Express why you're concerned
Whenever you're approaching a sensitive conversation, you want to clarify why the conversation is essential. Start the conversation by letting your loved one know that you are concerned or worried about them. Tell them how you've observed changes in their behavior or noticed they're struggling to care for themselves. Follow that up by letting your loved one know how much you love and care for them and that you want to ask about their health so you can help them live the healthiest life they can.
Actively listen
You want to ensure the conversation is a two-way discussion. Listen to what your loved one has to say once you've expressed your concerns and asked about your loved one's health. The key to active listening is paying attention to what another person is saying, intending to empathize. Pay attention to your loved one's tone and choice of words and try to decipher how they're feeling. The conversation will be more productive if you empathize with them and let them know you hear what they're saying.
Take it slow
Understanding the entire state of someone's health might take more than one conversation. Take the conversation slowly, and don't push your loved ones to share more than they are comfortable sharing. At the end of your first conversation, let your loved one know how much you appreciate them opening up to you. You can then let them know you still have questions, but you understand if they're not ready to answer them. Your loved one may surprise you and want to talk about everything right away, but if they choose not to, give them time to decompress.
Make decisions together
When you learn about your loved one's health, you may feel compelled to make healthcare decisions for them. In some cases, such as if your loved one has a cognitive condition that affects their ability to make decisions, you have to make an executive choice about their care. However, if your loved one can participate in the decision-making process, be sure to include them. If they have a medical condition that requires treatment, ask which treatment options they're considering. If they are having trouble at home, ask if they'd be willing to hire an at-home caregiver. Making decisions together lets your loved ones know you care about what they want, and they'll be more accepting of the decisions made.
Working with Visiting Angels
If your aging loved one is living with a health condition that makes it difficult for them to care for themselves, the team at Visiting Angels Powder Springs, Georgia, could help. We have a compassionate team of trained caregivers who can help your loved one with various nonmedical tasks such as light housekeeping, personal grooming, medication reminders, meal preparation, mobility assistance, and more.
Our Powder Springs office serves those in Marietta, Austell, Powder Springs, Dallas, and the surrounding Georgia communities. If you'd like to learn more about our services, you can complete this form online or call us at 770.222.7388.