Caregiver in Sedona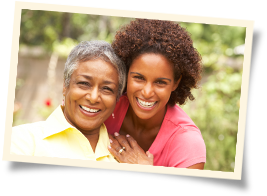 At Visiting Angels® Prescott, we know how important it is for loving families to give their senior relatives the best life possible. We also understand such a task can be difficult on your own. With our in-home caregiver services, seniors across Sedona and surrounding regions can enjoy critical support and loving companionship from a kind and reliable professional.
We take our role in your loved one's life very seriously. Our mission is to supply the right level of customized help they need to maintain a safe and stable home life, delaying or even preventing the need for a nursing facility. We accomplish this by hiring only the best and most compassionate people for the job. This process includes tough background and reference checks designed to bring in only the best candidates.
The Benefits of Hiring a Professional Caregiver in Sedona
The move to an assisted living facility is never preferable. Supporting your loved one in their own home and allowing them to stay there is always the best alternative. That's because home life is more dignified, comfortable, and full of additional advantages. They get to preserve their normal daily routine, keep up with friends and family and simply enjoy the stability of remaining where they are most familiar.
By providing critical in-home support, customized around your loved one's needs, we're able to help you save them from the traumatic move. We are proud to offer the following services and benefits:
Warm, loving companionship from a friendly professional who cares.
The opportunity for family members to enjoy a stress-free respite from delivering care.
Dignified personal care, including grooming, bathing, and dressing.
Reminders to make sure they never skip their medicine and always adhere to medical advice.
Household fall prevention, basic housekeeping, meal planning, walking help, and more!
Trusted Caregivers From Visiting Angels Prescott
We are proud to deliver amazing support and kind, loving companionship from trustworthy professional Angel caregivers. Our caregivers for the Sedona area make it their mission to help your senior relative live an easier and safer life without giving up the comfort of their own home. We always work with families to provide the best care possible, with flexible scheduling and customized service.
You can find our dedicated caregiver support throughout:
Sedona
Prescott Valley
Cottonwood
Chino Valley
And throughout the surrounding areas
For more details about our caregiver services throughout Sedona, call Visiting Angels Prescott today.