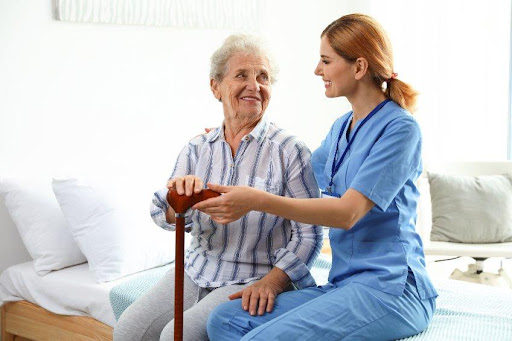 Starting Your Career as a Professional Caregiver
Professional caregiving is growing in popularity as a career choice thanks to its flexibility, autonomy, and rewarding work. But starting your career as a professional caregiver may feel daunting, especially if you come from a background outside of healthcare or senior work.
If you're new to caregiving or considering a role as a professional caregiver, understanding your role and finding a reliable agency to work with can set you on the path to success!
Understanding Your Role
The role of a professional caregiver is to deliver compassionate care to seniors living at home. The goal of a successful caregiver is to make clients feel safe and comfortable aging in place. Caregivers also relieve family caregivers and help relatives feel at ease knowing someone is caring for their loved one.
Caregiver responsibilities
Caregivers may help clients with various tasks depending on the type of care plan they've requested. Most clients require companion care which includes assisting them in running errands, planning and preparing dietary conscious meals, offering medication reminders, or light housekeeping. For clients who require personal care services, caregivers may also need to assist with bathing, dressing, grooming, toileting, or personal hygiene.
As you grow more comfortable and confident in your role as a caregiver, you may provide specialized care, such as giving wandering prevention and oversight for seniors with dementia. Other types of specialized care include transitional care, fall prevention, and end-of-life care.
Characteristics of a caregiver
We enjoy working with various personalities among our caregivers, but there are a few characteristics we often find in successful caregivers.
Empathy- Caregivers can understand clients' feelings and empathize with challenging situations.
Dependability- Clients can depend on caregivers to show up on time, complete tasks, and make them feel comfortable at home.
Hard-working- Caregivers prioritize their client's needs and work hard to provide the highest quality care.
Working with Visiting Angels
Visiting Angels is a locally owned home care agency providing in-home care to neighboring seniors. We are ranked one of the top agencies in the nation and take pride in positively impacting our communities with the help of caring and compassionate caregivers.
What we offer
We understand the importance of a work-life balance, so we offer flexible hours for full-time and part-time employees. You tell us what hours work best for your schedule, and we will match you with clients who've requested services during those times. We're also a locally-owned and operated home care agency, so all our clients are from the community, meaning no long commutes for caregivers.
We also know caregiving is a job, and we want our employees to feel financially secure in their position. We offer competitive pay, bonus opportunities, paid training, paid time off, and reimbursable mileage. Plus, we provide a clear career path for each employee to ensure you're continuing to grow as a caregiver professional.
Job requirements
Working as a professional caregiver doesn't require a specific degree or employment history. When caregivers join Visiting Angels, we provide new hires with the job-specific training they'll need to work as successful caregivers. However, we seek a few requirements when looking for potential caregivers.
All caregivers should be able to lift 25 pounds, have reliable transportation, own a smartphone, be comfortable with providing hygiene care, have valid driver's licenses, and be willing to assist seniors with household tasks like cooking and cleaning.
Next steps
If you think working as a professional caregiver may be a good career match for you, the team at Visiting Angels Prescott would love to connect. We have part-time and full-time positions to assist seniors living in Prescott and the Verde Valley. If you'd like to learn more about career opportunities with Visiting Angels, send us your application or call 928.220.4100.