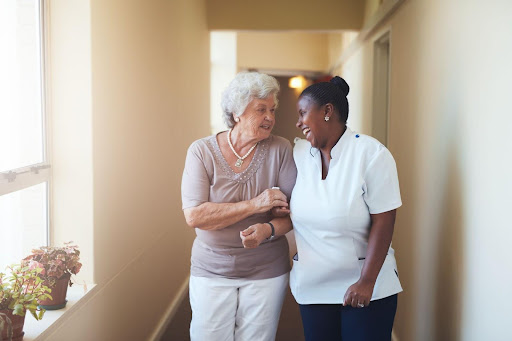 The Dos and Don'ts of Professional Caregiving
There's a lot of misunderstanding around the role of a professional caregiver. Much of that misunderstanding is from confusion around what makes a professional caregiver different from a nurse or nursing aide.
A professional caregiver provides nonmedical assistance to clients. These nonmedical tasks may include light housekeeping, transportation, mobility assistance, meal preparation, medication reminders, or personal grooming. To better understand the difference, it's essential to distinguish the dos and don'ts of professional caregiving.
What you can do as a professional caregiver
Nonmedical tasks include various activities, from providing companionship and helping clean the house to preparing meals and transporting clients to doctors' appointments.
Provide companionship-
One of the essential roles of a professional caregiver is to provide companionship. Many older adults don't have too many interactions with people outside of their immediate family. Clients often seek caregivers to provide companionship while they hang out at home, walk around the neighborhood, or go grocery shopping.


Provide transportation to appointments-
Some clients cannot drive, and public transportation may not be an option depending on where they live. Caregivers can help bring clients to appointments or to run errands.


Offer mobility assistance-
Clients who have difficulty standing, sitting, or moving throughout the house may require mobility assistance.

Help with personal grooming-
Some clients may need help with personal grooming, which can include getting dressed, taking a shower, brushing their teeth, or using the toilet.


Tidy up the home-
Personal caregivers don't need to deep-clean the house, but they may have to help tidy up throughout the day. Some caregivers may also help with laundry or vacuuming, as those tasks might require too much coordination for clients.


Prepare and cook meals-
If clients are uncomfortable in the kitchen, they may ask for assistance preparing and cooking their favorite meals.
What you can not do as a professional caregiver
When you care about your client, you want to help them with everything, but it's essential to maintain boundaries and only help with the tasks you have the training to do.
Don't administer medications-
Clients may have difficulty remembering to take their prescription medications, and it's okay to remind them or encourage them to take their medicine. However, you may not give them medication. They must take the medication on their own.


Don't change bandages-
Some clients may need bandages or dressing changes, but that is something a nurse or CNA should be doing. A lot of knowledge comes with adequately changing bandages, and there's a lot that could go wrong if it's done wrong. That is why we ask that our caregivers not assist clients with dressing changes.


Don't provide personal information-
You will build relationships with your clients, and it's not uncommon for the two of you to care for each other like family. However, it's essential to keep your relationship professional. Part of maintaining a professional association is not providing personal information, such as your cell phone number or email address, to clients. If clients need assistance when you're not working or what to contact you outside of your shift, they can contact our office staff, who can help them or leave a message for you.


Don't do home maintenance-
It might not seem like a huge deal if you clean some rain gutters or install grab bars in the bathroom, but for insurance and safety reasons, you don't want to perform home maintenance for your client. If your client needs help with their leaking faucet or installing a light fixture, you can help them find a professional to do it for them.
Are you ready to start your career as a professional caregiver? The team at Visiting Angels Prescott would love to connect. We're looking for caregivers to assist seniors living in the Prescott area and the Verde Valley. Please send us your information or call 928-220-4100 to learn more about career opportunities.