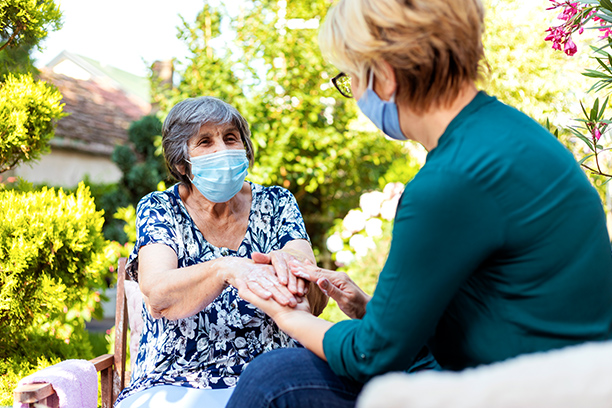 Alzheimer's Care Cape Coral FL
Visiting Angels Punta Gorda: Your Source for Alzheimer's Care
Prior to receiving a diagnosis of Alzheimer's or dementia you may have observed some changes in your loved one. Perhaps you noticed your mom asking for the same information repeatedly. Maybe your dad seems to have forgotten how to drive home from the grocery store. Your loved one may have begun to misplace things on a regular basis. All of these warning signs may cause you to suspect a family member could have Alzheimer's. However, nothing can quite prepare you for the diagnosis. Visiting Angels Punta Gorda, FL can provide caregivers that specialize in Alzheimer's care that can step in and lend an experienced hand.
Many questions often come to mind when a family member receives a diagnosis of Alzheimer's or dementia. First and foremost being how to properly care for them and keep them safe. This is a big task and one that you do not have to take on by yourself. Even family members with the best intentions can become burnt out from the physical and emotional toll of caring for a loved one with Alzheimer's. The good news is that there are Alzheimer's care providers, such as those provided by Visiting Angels Punta Gorda, FL who can help. All caregivers provided to you will have Alzheimer's Disease Initiative (ADI) certificates completed through State approved schools, along with numerous other required certifications.
When looking for Alzheimer's care near Cape Coral, FL you want to choose an agency that has experience detailing the particular nuances that memory disorders entail when providing a qualified caregiver. An agency, like Visiting Angels Punta Gorda, FL, that offers caregivers who have previous experience caring for seniors with Alzheimer's is the best place to start.
One important aspect of caring for someone with a memory disorder is gaining the trust of the person you're caring for, especially since mistrust often accompanies more advanced stages of illness. The Alzheimer's care professionals provided by Visiting Angels Punta Gorda, FL are adept at helping your loved one feel at ease by working with their familiar schedule and helping them to feel in control. The caregivers we provide get to know their clients by spending time engaging them in conversations and seeking to share in the activities that bring their clients joy.
Finding a trusted caregiver to help a loved one who suffers from Alzheimer's or dementia can be a lifesaver for the whole family. Not only will your family member be safe and well taken care of, but you will have peace of mind that comes from knowing you don't have to do everything on your own.
When you are in need of Alzheimer's care for a parent or family member, please call Visiting Angels Punta Gorda, FL. We can provide helpful caregivers to help you in the Cape Coral, FL areas.
Serving Punta Gorda, North Fort Myers, Boca Grande, Cape Coral, Sanibel, Captiva, Arcadia and Surrounding Areas
Visiting Angels PUNTA GORDA, FL
25166 Marion Ave #114
Punta Gorda, FL 33950
Phone: 941-347-8288