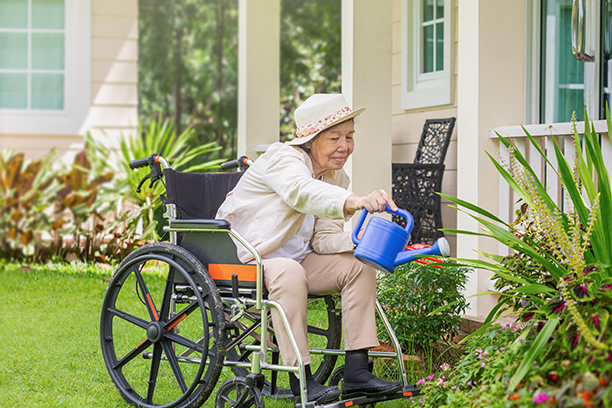 Alzheimer's Care Services in Cape Coral
Alzheimer's Care for Cape Coral, FL Residents
When a loved one is diagnosed with Alzheimer's, it is often very difficult for the family. Not only do families fear losing the person they once knew as the Alzheimer's progresses, but they also worry about how their loved one's cognitive function will be affected. Caring for a loved one, with Alzheimer's can be difficult to do alone. When you're looking for Alzheimer's care in Cape Coral FL, choose Visiting Angels Punta Gorda.
Visiting Angels Punta Gorda is an in-home senior care provider. We, at Visiting Angels, understand how important it is to have your loved one at home. That is why we provide in-home Alzheimer's care for your loved one's needs. With our Alzheimer's care services your aging loved one can stay comfortable at home for as long as possible. We have the experience to provide the compassionate Alzheimer's care you're looking for.
Personalized Alzheimer's Care in Cape Coral
Furthermore, here at Visiting Angels Punta Gorda, we understand that everyone has unique needs and preferences. That is why we provide an individualized plan of care for all of our clients. Our caregivers work with your family to provide senior care that accommodates schedules, preferences, and your loved one's well-being. Our caregivers are trained to provide a level of care that best fits your loved one's needs.
High-Quality Alzheimer's Care Services
Alzheimer's is a serious disease that affects families across the nation. To provide the level of care needed, we created a formal training program for our caregivers. The program itself is a collaboration with the Alzheimer's Foundation of America. The training program ensures that our homecare providers have the knowledge needed to best care for someone with Alzheimer's. Not only will we provide the care that your senior loved one needs, but we will also help your loved one in a way that does not strip them of their independence and dignity.
Living Assistance Services in Cape Coral
Visiting Angels Punta Gorda provides several living assistance services to help those with Alzheimer's and dementia. We provide assistance with:
Medication Reminders
Hygiene Care
Meal Planning & Preparation
Dressing Assistance
Assistance with Errands
Other Activities of Daily Living
How to Get Started with Visiting Angels Punta Gorda
All in all, getting started with Visiting Angels Punta Gorda is simple. Once you reach out to us, one of our services coordinators will have an initial meeting with you. We will use the initial meeting to get to know you and your loved one so we can understand the specific needs and preferences you may have.
Every Alzheimer's patient is different. After the initial meeting is complete, we will then use the information we've gathered to carefully create a customized plan of care that accommodates your loved one's lifestyle and needs. After the plan is created, we will match your senior loved one with a compatible caregiver.
If you are ready to take the next step and want to schedule an initial meeting, or if you want to learn more about our services, contact us today.
Serving Punta Gorda, North Fort Myers, Boca Grande, Cape Coral, Sanibel, Captiva, Arcadia and Surrounding Areas
Visiting Angels PUNTA GORDA, FL
25166 Marion Ave #114
Punta Gorda, FL 33950
Phone: 941-347-8288
A Florida employee based Home Health Agency, FL Lic # 299994657