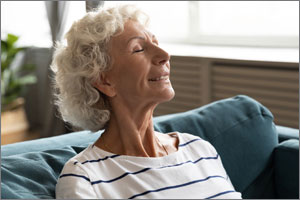 February is a time when the nation spotlights heart disease
Love is in the air this month, and part of that means taking the best care possible of the ones you love. February also is a time when the nation spotlights heart disease, the number one killer of Americans. As part of American Heart Month, take some time to combine the two - focus on the heart health of the ones you love the most, including the seniors in your life. People aged 65 and older are more likely to suffer from heart attacks, strokes, and heart disease, according to the National Institute on Aging. It's time to get down to business. Focus on the heart health of the seniors in your life. Ensuring they get checked out by a medical professional is important. But also do some fun, healthy things together to promote heart health.
Here are 25 tips for seniors to be heart-healthy.
Make an appointment to see your primary care physician. Find out how you're doing, and see what recommendations he or she has for your heart health.
Go to the free yoga classes at Venice Beach. There are classes in the morning or a sunset class at 5 p.m. each day, all for free, seven days a week.
If you're still using tobacco products and smoking at this age, it's time to stop. Make this the year you quit. If you have a senior loved one in your life that smokes, help them stop and make it a goal for this year.
Get your blood pressure and cholesterol checked. Know your healthy ranges, and ensure you stay within those.
Find some new recipes that are heart-healthy and make them together with your senior loved one.
Head outside each day. Even if you're just going to fetch the mail from the mailbox, it gets you moving and out into the fresh air.
Be around people. Loneliness is bad for the heart. Find friends you want to be with, join an event at the senior center, or call up a family member you haven't talked to in a while.
Get some Zzzs. The Centers for Disease Control says getting enough sleep is vital for heart health.
Portion control is key to healthy eating. Before your meal or before you snack, measure out your portions, so you don't overeat.
Head to the Peace River Gardens in Punta Gorda. There are different botanicals to see throughout the year. It is a great place to walk around and get some exercise while seeing the sculptures and artwork. There also are events to attend throughout the year.
Make it a goal to walk at some different beaches this year. Try a new one each week. Hit some you've never tried before, or go back to an old favorite. Walk a little further each time you visit. Walking in the sand is great exercise, and looking at and listening to the ocean is good for the soul.
Feel the sunshine on your face at least once a day if it's shining, even for a minute. Whether you simply step onto your patio or head to the beach, it is a great way to get into a good mood and improve your overall health.
Move a little more each day, or each week. Make some goals, such as walking one block further, or riding your bike for a minute more each week. Every little bit counts, and leads to heart healthier habits.
Have you gone to the grocery store and seen some odd-looking spiky fruits and wondered what they were? Put one of those in your cart and try one for the first time. See if it's something you want to add to your heart-healthy diet.
It seems like everyone loves pickleball. Try it out and see if you're a fan too.
Hire a caregiver that can help you get moving. Compassionate caregivers at places such as Visiting Angels Punta Gorda can provide services such as companionship on a walk around the neighborhood, or fall prevention help as you do laps in your own home.
Hunt for shark's teeth at Venice Beach. Even if you don't find a lot, the act of bending down each time, sticking your hand in the water and seeing what treasures you've found is exercise, and it's a fun hunt and thing to do.
Watch a comedy or a funny show. Laugh out loud. As they say, laughter is the best medicine.
Turn on the tunes. If you have upbeat music playing in your home or car, you can't help but bop around to it. It puts you in a good mood and adds more movement to your day.
Head to a farmer's market and grab some fresh fruit and vegetables. Wash them up so you have healthy, ready-to-eat snacks.
Make sure your seniors get up and out of bed and moving each day. If needed, hire a caregiver that can help them get dressed and ready for the day. Being dressed and ready helps put them into the right mindset to be active and alert during the day.
As you're sitting down watching a show, lift some hand weights or do some leg lifts. Make it a goal to do 20 on each limb while you're watching the nightly news before dinner.
Stand more if you're able. Do some of the tasks you might usually do sitting down while standing instead. For example, pace around the house while you're on the phone instead of sitting in your comfy chair.
Stretch each day. It not only keeps you more nimble, but stretching can get your heart rate up.
Eat at least two servings of fish a week The omega-3 fatty acids in fish are great for heart health.
Visiting Angels is Here to Help
If you are looking for help with your senior loved one as they strive for heart health, our professionals at Visiting Angels Punta Gorda are here to help. We provide a variety of home care services to meet any need they might have, from getting dressed for a morning walk to help with light meal prep.
Our expert team of caregivers serves clients in Punta Gorda, North Fort Myers, Boca Grande, Cape Coral, Sanibel, Captiva, Arcadia and surrounding areas. To learn more about our services, call us at 941-347-8288, or fill out an online form here.