Five Simple Ideas to Engage Your Loved One with Alzheimer's
Chances are that if there's an aging loved one in your life, they either are suffering from or could easily suffer from Alzheimer's disease or another dementia. According to Alzheimers.net, more than five million Americans are living with Alzheimer's disease. One in ten Americans over the age of 65 has Alzheimer's, and one-third of Americans over the age of 85 are afflicted with the illness. It is predicted that between 2017-2025, every state in the U.S. will see a 14% increase in the prevalence of Alzheimer's.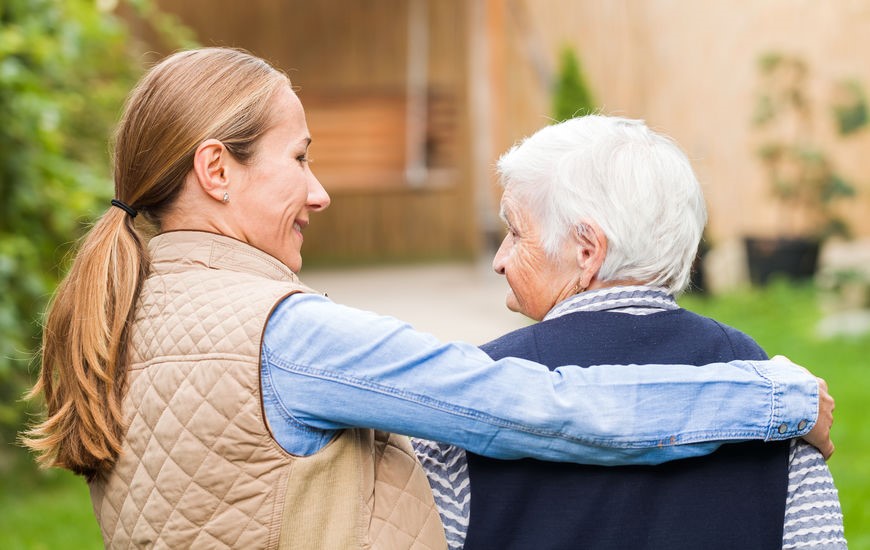 November is National Alzheimer's Awareness Month, designated in 1983 by President Ronald Reagan. At the time, there were less than two million people living with Alzheimer's disease. That number has more than doubled since then, and a cure is still unfound. National Alzheimer's Awareness Month seeks to bring awareness to the disease, as well as provide support for caregivers. As a family caregiver, providing care to an aging loved one with Alzheimer's can be exhausting, challenging, and emotionally taxing. Many family caregivers lose their identity as daughter, son, friend, grandchild when they begin to take on the caregiver role. Even family members who provide little to no care can find that their relationship with their loved one with Alzheimer's gets lost as the disease progresses. If you have an aging loved one living with Alzheimer's and are struggling to relate with them, here are five simple ideas to engage with them as you provide care or simply visit.
Consider Their Past Hobbies
Whether it's a hobby your aging loved one enjoyed as a child, or one they picked up after retirement, hobbies offer an escape and promote creativity. Hobbies are often lost once a senior enters the middle stages of Alzheimer's. Yet, engaging your loved one in their favorite hobby is a meaningful way to reconnect with them. There are many ways to adapt hobbies for those that have physical limitations or need assistance. Try adaptive equipment, such as a thick paint brush for easier grip or large print for working word puzzles. Simplify complex hobbies by breaking down a larger project into simple steps. Consider taking your loved one to a place that relates to their favorite pastime, such as a craft store, wood shop, bakery, or art gallery in order to evoke memories.
Come Prepared with Conversation Starters
It might sound silly to prepare questions to ask your aging loved one the next time you visit, yet without a plan, conversation can lag or become repetitive. Take a few moments to prepare a few conversation starters so that you have a direction in which to take your conversation. Reminiscence works well for any stage of Alzheimer's or other dementia. Remember to ask open ended questions and prompt conversation with phrases such as "tell me about the time when….". Stick to topics that are familiar with your loved one and keep in mind that someone with Alzheimer's has an easier time recalling their younger years than more recent events. They also need more time to process information, so ask your question and give them time to respond before moving on to the next question.
Engage Their Senses
Utilize props and other objects that your loved one can explore and manipulate is another simple, great way to create meaningful moments for someone with Alzheimer's. Sensory kits are easy to put together and don't require a trip to the store. Theme kits around the holidays, seasons, activities, places, or hobbies. For example, someone who enjoyed baking would love to explore a baking sensory kit. Fill a small container with kitchen items, such as a whisk, spatula, apron, oven mitt, measuring spoons, recipe cards, and spices. Then, allow your loved one to pull out each object and explore it. Put the apron and oven mitt on them. Open the spices and ask them to identify each spice by smell. Reminisce about their favorite treat to bake. Try to engage all five senses as you explore the kit together.
Explore Outdoors
When all else fails, head outdoors. Changing up the environment where your loved one spends most of their time can alleviate boredom and provide a literal breath of fresh air for everyone. Sit outside and visit in a different setting. Place bird feeders near windows in order to attract birds so that your loved one can enjoy watching wildlife in their own backyard. Go for a short walk with your loved one in the early afternoon in order to prevent agitation and other behaviors related to sundowning. Spending time in nature is very beneficial for someone with Alzheimer's and can be an instant mood booster.
Engage Through Chores
If you're limited on time and need to accomplish care tasks during your visit, ask your aging loved one to help. Involving them with simple tasks can help preserve their dignity and give them a sense of purpose. Ask them to help fold laundry or sweep the floors. Depending on their ability, involve them in financial matters such as paying bills or balancing the checkbook. Ask their preferences for meals, doctor appointments, or clothing you need to purchase for them. It can be easy to take over their life as you navigate the role of family caregiver. Prevent this from happening by finding ways to involve them in the decision and care-taking process.
Visiting Angels Punta Gorda understands that burden of caring for an aging loved one with Alzheimer's. If you are limited on time, please allow us to come alongside you to help give you back more quality time with your loved one. Our compassionate caregivers receive specialized training in order to provide exceptional care for our clients with Alzheimer's and another dementia. We offer a variety of senior in-home care services that allow your loved one to remain safely and independently in the comfort of their own home. Being a family caregiver is burdensome. Allow us to shoulder some of the care responsibility so that you can focus on the relationship with your aging loved one, instead of just the care tasks. Contact us today by calling 941-347-8288 Punta Gorda or 239-226-1620 Cape Coral, so that we can learn more about your situation.