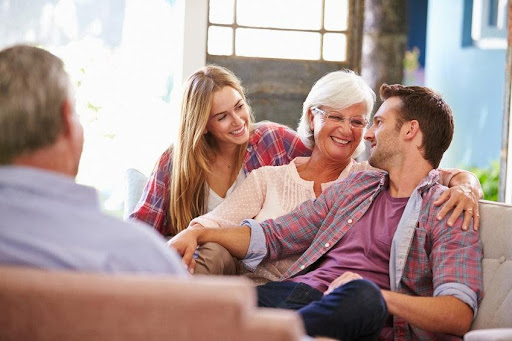 How to Keep the Holidays Simple and Stress-Free for Aging Relatives
As the holidays approach, families with aging loved ones already feel pulled in multiple directions. Some act as family caregivers, so they have limited time to devote to holiday festivities. Others are consumed with concern about this holiday season being one of the lasts that their aging loved one will be around to celebrate. Many seniors themselves feel the stress of participating in traditional holiday events, even though it might jeopardize their health and well-being.
December is National Stress-Free Family Holidays Month. While the holiday season should be a time for joy and celebration, the reality is that the time between Thanksgiving and New Year's is often filled with pressure and anxiety. This is true even for older adults. The effort it takes to create the perfect holiday celebration can leave family caregivers and seniors feeling exhausted and burnt out. Seniors living with a dementia diagnosis often experience angst as their routines are disrupted throughout the holiday season. This year, a simple and stress-free holiday might help you and your aging relatives get more out of the season.
If the impending holidays have you feeling anxious and stressed, consider trimming your traditions. Here are four tips to help keep the holidays simple while still making the season meaningful for your aging relatives.
Decorate with Ease
Many seniors feel overwhelmed when it's time to decorate for the holiday season. It's a lot of effort to exert to deck the halls for only a short duration of time. This year, help your aging relatives decorate with ease. Plan a day to help them sort through their holiday décor and decorate their home. Replace their full-sized tree with a miniature, pre-lit tree that they can place on an end table. Encourage them to pick their favorite holiday decorations to display and don't bother with the rest. Use this year to help them select pieces from their collection to gift to their adult children and grandchildren, such as ornaments or holiday family heirlooms.
Streamline Gifts
If your family has grown over the years, it might be time to help your aging loved one streamline their gift-giving. Encourage them to give family gifts instead of worrying about a gift for each individual person. It might feel less personal, but monetary gifts are very thoughtful gifts. Other thoughtful family gift ideas include experience gifts, such as an annual museum or zoo membership or a game or movie that the entire family can enjoy together.
Let the Next Generation Host
Hosting large family gatherings creates a lot of stress for older adults, especially those with limited mobility or chronic health conditions. If your aging relative's home is where the extended family typically gathers for a holiday dinner, make this year the year that the next generation assumes the role. Whether the gathering still happens at your aging relative's home or not, you can still find meaningful ways to include your aging relatives. Ask them to say the blessing over the meal or to carve the meat. Include their favorite side dish or other holiday foods that are traditions in your family. Insist that out-of-town guests stay with you instead of with your aging relatives so that they can retreat to their own homes when they're feeling tired or overwhelmed.
Select Meaningful Traditions
Finally, keep the holidays simple and stress-free by reducing how many activities and festive events you and your aging relatives engage in this season. Take time to ask your aging relatives what's most meaningful to them. Then, make plans to assist them in those meaningful traditions. This takes the stress off your shoulders, as you won't be wasting time orchestrating activities that aren't important to them. It also alleviates the stress your aging relatives may feel about participating in events that aren't enjoyable to them.

As you look to simplify your holidays for your aging relatives, perhaps it's time you consider other ways to reduce stress in their daily routine. Visiting Angels Punta Gorda can provide you with a caregiver who can assist your aging relative. Our elderly home care services have helped families throughout the Punta Gorda area find dedicated care, alleviating stress for both clients and family caregivers. If helping your aging relative maintain their preferred routine in the comfort of their own home is important to you, please get in touch with us today by calling 941-347-8288 Charlotte County or 239-226-1620 Lee County.