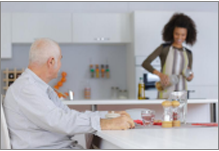 Make Meal Preparation a Breeze With These Four Tips
Eating a well-balanced diet is an essential component to healthy age. However, many seniors miss the mark on getting adequate nutrition to support their aging bodies. Loss of appetite, change in tastebuds, a decline in the ability to smell aromas, and digestive discomforts can affect an older adult's appetite, causing them to lose interest in healthy eating. Other older adults may experience a loss of endurance or painful arthritis. A physical decline can prevent them from preparing healthy meals that require long periods of standing and using their fine motor skills.
Loneliness can also contribute to poor nutrition in older adults. Pew Research Center reports that 27 percent of adults age 60 and older in the U.S. live alone. Cooking for one can be overwhelming and exhausting. Eating alone only magnifies loneliness and feelings of depression. These feelings can suppress the appetite, causing an older adult to lose interest in eating a well-balanced diet.
The good news is that older adults can get their nutrition goals back on track. With a little planning, the challenges many older adults face in the kitchen can be overcome. Here are four tips to make meal preparation a breeze for older adults.

Purchase Pre-Sliced Produce

Healthy meals often call for freshly sliced produce. The motion of chopping and slicing requires a lot of hand-eye coordination, as well as finger dexterity. It also requires long periods of standing. Make meal preparation a breeze by purchasing produce that's already been sliced. Many grocers offer pre-sliced fruits and vegetables in the produce aisle. Another solution is to purchase frozen produce that's already sliced or diced. Produce that's been frozen still contains essential nutrients, vitamins, and minerals, making it easier for older adults to get the nutrition they need.

Utilize the Freezer

Another meal preparation tip for older adults is to utilize the freezer. There are two methods of freezer meal preparation. The first method involves doubling the recipe and freezing the second portion to eat at another time. The second method is to prepare a meal up to a certain point, then freeze it before it's fully cooked. When you want to eat that meal, you pull it out of the freezer and continue with the recipe once it's thawed. The Food Network has an excellent guide on how to safely prepare, freeze, and thaw healthy meals, including the best way to store and package meals.

Learn Healthy Substitutions

Many older adults give up on preparing healthy meals because they think they have to learn all new recipes. However, many recipes can be adapted to turn an unhealthy recipe into a healthy meal. Substitute veggie noodles for pasta noodles in your pasta dishes. Use lean ground turkey instead of fatty red meat, or swap beans for meat altogether. Add chopped vegetables to pasta sauce or pizza toppings. Cook with healthy oils instead of butter. Choose sweet potatoes over white potatoes. Substitute sour cream with Greek yogurt. Review your favorite recipes and slightly alter the ingredients to increase their nutritional value.

Ask for Help

Lastly, ask family and friends to help you in the kitchen. Teach your grandchildren how to cook family recipes and give them age-appropriate tasks. Invite your family or friends to join you in preparing a larger batch of freezer meals once a month. Ask family for their input when creating a menu or list of freezer meals. If you live alone, ask friends to share what they're cooking for inspiration. Look for inspiration in other resources, such as healthy cookbooks, online food blogs, or social media.

Speaking of asking for help, Visiting Angels Punta Gorda is here to help older adults who are struggling in the kitchen. We can provide you with a caregiver who can assist you with meal preparation so that you have nutritious meals ready to go the next time you're hungry. They can even dine with you so that you can enjoy quality conversation and feel less lonely during meal times. To learn more about elderly home care from Visiting Angels Punta Gorda, please contact us today by calling 941-347-8288 Charlotte County or 239-226-1620 Lee County.