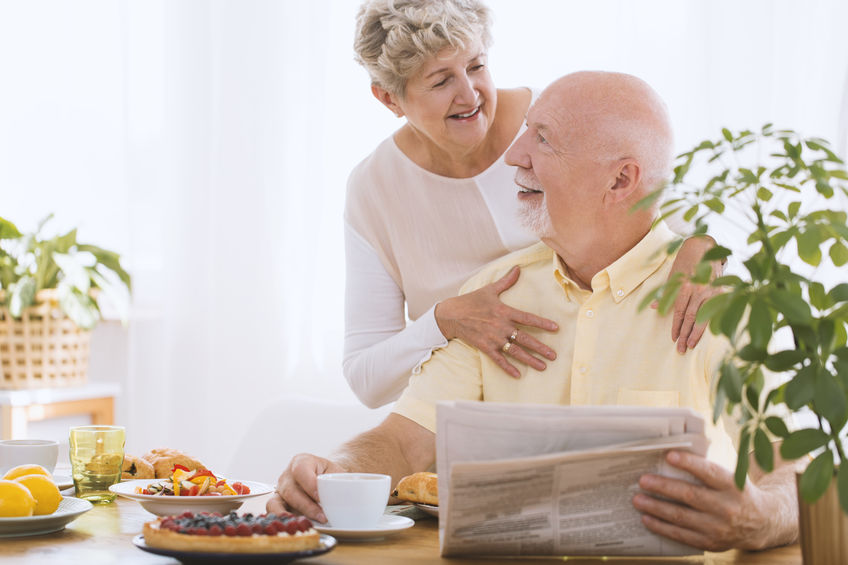 Start Your Day Right with a Hearty Breakfast
It is said that breakfast is the most important meal of the day. This may be especially true if you want to lower your risk for heart disease. According to a recent study from the University of Iowa, older adults who skipped breakfast had an 87 percent higher risk of death caused by cardiovascular disease than those who consumed breakfast regularly.
However, before you reach for those donuts, it's important to clarify that what you eat plays a larger role in preventing heart disease. Consuming proper nutrition at the first meal of the day can help you stay full longer. This prevents you from overeating later throughout the day. Start your day right with a hearty breakfast. Here are four heart-healthy options to jump-start your metabolism and provide you with the energy you need to navigate your day.
Steel-Cut Oatmeal
Packed with vitamins, minerals, and antioxidants, oats are among the healthiest grains older adults can consume. The nutrients found in oats can help lower blood pressure and reduce LDL cholesterol, therefore lowering heart disease risk. Start your day right with a bowl of heart-healthy oatmeal. Stick with steel-cut oats, which are the least processed and offer the best texture when cooked. Combine oats, milk or water, and a dash of salt in a pot. Then bring to a boil and simmer for approximately twenty minutes, stirring occasionally. Top with fresh fruit, nuts, honey, or almond butter. If you're short on time, try an overnight steel-cut oats recipe, served cold, or prepare in a crockpot and wake up to a hot, heart-healthy breakfast.
Whole Grain Muffins

Muffins generally have a bad reputation when it comes to healthy breakfast foods. That's mainly because most bakery-style muffins are oversized and loaded with sugar. However, homemade muffins are a great option for older adults who prefer to grab something quick in the morning. The key is to use healthy ingredients for a nutritionally dense and filling breakfast. Use whole wheat flour instead of white flour. Swap out butter for olive oil. Replace at least half of the sugar in the recipe with sugar-free applesauce. Throw in chia seeds, wheat germ, or raw chopped nuts for more nutrition. Add flavor with shredded carrots, fresh blueberries, or a dash of cinnamon.
One-Egg Omelet
Eggs are another food that is often misunderstood when it comes to heart health. It was previously assumed that the cholesterol in eggs came from the egg yolks, so experts advised against frequently consuming eggs. Research today suggests that an egg a day does not increase the risk for heart disease or heart attack for most older adults. In fact, eating an egg a day can lower the risk of death from stroke or heart disease. Begin your journey to healing your heart by whisking up a one-egg omelet. Fill with fresh vegetables, such as green pepper, onion, mushrooms, or spinach. Use a small portion of cheese to glue the omelet together. Serve alone or with a side of whole-wheat toast.
Protein-Packed Smoothie
Smoothies are an excellent option for older adults who don't usually eat breakfast or aren't up for cooking a big breakfast. The key is to pack the smoothie with healthy ingredients. Start with a base of plain Greek yogurt. Add fresh or frozen fruits of your choice. Toss in ground flax seeds, wheat germ, or chia seeds for extra fiber. Include a scoop of protein powder before blending together. Thin out with water or low-fat milk until you reach the consistency you prefer.
If you're an older adult who needs assistance with starting your day off right, look no further than Visiting Angels Punta Gorda. We offer a variety of home care services that allow seniors to remain safe and independent in the comfort of their own homes. Our dedicated and compassionate caregivers can support you in your own home when you need help the most. Whether it's assistance with bathing or dressing or a friendly face to keep you company throughout the week, senior care services from us are customized for each client. To get started today, please contact us today by calling 941-347-8288 Charlotte County or 239-226-1620 Lee County.