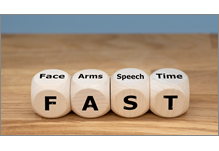 Warning Signs of a Stroke and How to Respond
A stroke is essentially a disruption of the blood supply to a part of the brain. This disruption deprives brain tissue of nutrients and oxygen. Within minutes, the brain cells begin to die, causing the person suffering a stroke to lose abilities controlled by that area of the brain. The outcome of a stroke depends on the severity of the stroke, where it occurred in the brain, and how much of the brain was damaged while being deprived of blood supply and oxygen.
The Centers for Disease Control and Prevention reports that approximately 795,000 Americans suffer a stroke each year. One in four strokes occurs in people who have previously suffered a stroke. Stroke is the leading cause of long-term disability in adults, specifically older adults.
May is National Stroke Awareness Month. Most of us recognize sudden numbness on one side of the body as a sign of a stroke. However, other signs indicate a stroke is happening that are often missed, such as slurred speech, difficulty understanding speech, blurred vision, or a sudden, severe headache. Learning to recognize these signs and symptoms could make all the difference between life and death.
To help older adults and others recognize the warning signs of a stroke, the National Stroke Association has created an acronym. Take a few moments this month to memorize this acronym so that you'll feel confident to act F-A-S-T. Fast action is critical so that your aging loved ones can receive the help and treatment they need.
F is for Face
One sign of a stroke is a drooping face. If you think your aging loved one is suffering a stroke, ask them to smile. Pay attention to the corners of their smile. Does one side droop? If so, it could be a stroke.
A is for Arms
Another sign of a stroke is hemiparesis, or weakness of one entire side of the body. A quick way to assess this is to ask your aging loved one to raise both arms. If one arm drifts downward or can't seem to lift one arm, it could be a stroke.
S is for Speech
Pay attention to your aging loved one's speech, looking for slurred or strange speech as another sign of a stroke. It could be a stroke if they're trying to carry on a conversation with you but aren't making any sense or slurring their words together. If they weren't talking, ask them to repeat a simple phrase to assess their speech quickly.
T is for Time
If any of these signs are present, you must contact help immediately. Call 9-1-1 and tell them you believe your aging loved one is suffering a stroke.
How to Respond
Just as the "T" indicates, if any signs or symptoms of a stroke are present, it's time to call the paramedics. Don't drive your loved one to the emergency room yourself. Stay put and wait for the paramedics to arrive. Keep your loved one awake. Do not give them any medication, food, or drink. Be prepared to start CPR if necessary.
Should any symptoms clear while awaiting the paramedics, your loved one should still get evaluated and treated at the hospital. They may have had a transient ischemic attack or a TIA. TIAs are a sign of a serious condition and do not go away on their own. Many older adults who experience a TIA are likely to ignore it because it quickly clears up. However, it's essential to inform your doctor about any TIA or symptoms of a stroke you have witnessed or personally experienced.
If you or an aging loved one has suffered a stroke, Visiting Angels Punta Gorda is here to help. Our personal home care services provide companionship to seniors and assistance at home with daily activities. Services can be provided for a few hours a day or around the clock, depending on your needs.
For us, senior home care is more than a weekly shower and assistance with the laundry. Our compassionate caregivers are highly trained to work with seniors with varying medical, cognitive, social, and emotional needs. To learn more, please get in touch with us today by calling 941-347-8288 Charlotte County or 239-226-1620 Lee County.